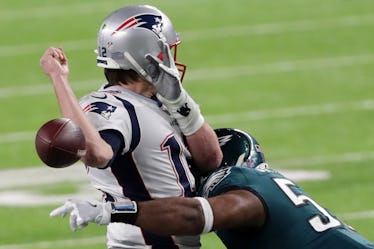 Tom Brady's Sad Super Bowl Face Is Way Too Real & Fans Can't Deal
Streeter Lecka/Getty Images Sport/Getty Images
Guys, Tom Brady looks pretty dang sad right now. During Super Bowl LII, the Patriots quarterback was sacked and fumbled in the fourth quarter of the game. Of course, this unfortunate moment led to memes about "sad Tom Brady," and they're kind of hilarious.
If you don't know what being "sacked and fumbled" means, you're probably not alone. Before we dive into hilarious memes about the moment, I'll enlighten you. Being "sacked" basically just means a player from the opposing team intercepts the ball before you get a chance to throw it. A fumble occurs when you lose possession of the ball entirely. Brady was sacked and fumbled in a pivotal final moment of the game, and his expressions post-downfall led to some pretty funny memes.
If you missed out on the moment, you should probably take a look at what happened before seeing the aftermath. The play was caught on camera, and a slow-motion video was posted to Twitter. In the video, you can see Brady flailing his arm, trying super hard to throw the football. However, players from the Eagles interfered with his throw, causing him to drop the ball entirely. TBH, he kind of reminds me of someone trying to fake out a dog by "throwing" a toy across a room, but really just dropping it behind them.
Yikes.
As you could probably imagine, Brady looked kind of sad after the fumble. In fact, he looked so upset that Twitter started making memes about his distraught appearance. While some of them are a little harsh, others are just making light of the situation.
"I need to see Brady cry before I sleep tonight."
#SadBrady seems to be the trending hashtag right about now.
"Aint no party like a #SadBrady party."
Some people are bringing Uggs into the conversation.
Others are just thriving in the #SadBrady moment.
These guys are making "Bradying" a thing. Try it when you're sad, I guess.
This Twitter user is suggesting a #SadBrady meme with a MAGA hat.
If that last meme doesn't make sense to you, you're probably in the dark about Brady's friendship with the president. It's true: Brady and Donald Trump are pals, but their relationship has gotten complicated. Apparently, they met in 2002 at a Miss USA Pageant that Trump invited the football player to, and they've been friends ever since. However, it appears that Trump's involvement in politics might've altered their relationship a teeny bit.
For instance, in December 2015, Brady asked to be left out of a political debate about then-candidate Trump's proposed ban on Muslims. Apparently, during an interview with WEEI, Brady said, "He's a good friend of mine. He's always been so supportive of me. He's always invited me to play golf and I've always enjoyed his company. I support all my friends in everything they do."
That sounds nice and all, but eyebrows raised in November 2016 when a clue on Gisele Bündchen's Instagram page led followers to believe the couple wasn't going to vote for Trump in the 2016 presidential election. Bündchen, Brady's wife, received a comment on a photo that said, "Gisele I head you and Tom were backing Trump! Is that true???" Bündchen reportedly replied with "NO!" — so maybe Brady and Trump aren't great friends anymore. Who really knows.
Anyway, let's get back to #SadBrady. The Patriots lost Super Bowl LII, which is probably making Brady even sadder. That's right: The Eagles won the big game, which means they'll have an opportunity to visit Trump in the White House. I guess we'll have to wait in order to find out who actually makes the trip, but we know Tom Brady won't be going... that is, unless Trump invites him to hang out.