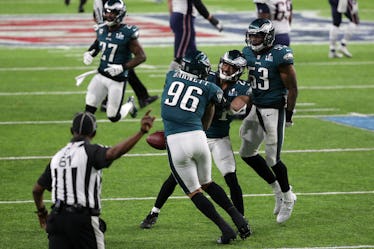 Some Philadelphia Eagles Players Have Said They Won't Visit The White House After Their Win
Streeter Lecka/Getty Images Sport/Getty Images
Championship games are full of nerves and excitement on the field, but they are also filled with plenty of ceremony and fanfare before and after the big game. The Super Bowl is no exception. One of the perks that usually accompanies becoming a Super Bowl champion is an offer to be honored for your victory by the president at the White House. Now that the game is over, you might be wondering if the new champions will make their way to Washington, D.C. So, will the Philadelphia Eagles visit the White House?
It is such a well-known tradition to visit the White House after winning a championship that many people don't think twice about it. Of course, in such tenuous political times, seemingly anything associated with the White House becomes controversial. In the end, it is each player's decision if they want to attend the White House ceremony or not.
So this year, after beating the New England Patriots in Super Bowl LII 41-33, players for the Philadelphia Eagles will decide whether or not they make their way to the White House.
President Donald Trump was inaugurated on Jan. 20, 2017, so this is not his first time hosting Super Bowl champions. Last year, the New England Patriots won the Lombardi Trophy and brought it with them to 1600 Pennsylvania Ave. The entire team was not in attendance, though.
There were different reasons for the the absences. Patriots quarterback, Tom Brady, is a known friend of President Trump, but he did not visit the White House with his team back in April 2017. He did not supply an immediate reason for missing the visit, but Brady later revealed that he chose to spend time with his mother instead of traveling to Washington, D.C., according to Bleacher Report.
Other players not in attendance had more deliberate reasons for missing the ceremony. Chris Long — who is now a defensive end for the Philadelphia Eagles — became a Super Bowl champion with the Patriots in 2017, but he did not believe it was the right thing to do to visit a Trump White House. He skipped the visit, as The Chicago Tribune reports, so Long could tell his son that he was, in his view, on the right side of history.
This year, Long plays on a different team, but his feelings about not attending a possible White House ceremony remain unchanged, as he said once again, he would not visit the White House, should the Eagles win this year, according to Sports Illustrated. If anything, Long has been further put off by President Trump. Long hails from Charlottesville, Virginia, and he was not pleased with the president's remarks that some people believe failed to fully condemn white supremacists following the deadly attack in August 2017.
Politics and sports intersecting is not a new phenomenon. The Pittsburgh Steelers were the first Super Bowl champions invited to the White House by former President Jimmy Carter in 1980, according to ESPN. The Pittsburgh Pirates (the reigning World Series champs in 1980) also joined the Steelers during that Carter White House visit in February 1980.
It is noted, however, that former President Ronald Reagan (who took office in 1981) is the one who made the act of honoring championship teams a White House tradition (and a very cool presidential privilege). Since then, about a dozen professional, collegiate, and U.S. national teams have made their way to the White House to celebrate their biggest victories.
President Trump's tenure is not the first to see particular athletes stay away from a White House ceremony for personal or political reasons. ESPN cites a handful of players, including basketball superstars Larry Bird and Michael Jordan, who skipped ceremonies during the Reagan and former President George H. W. Bush administrations, respectively. They did not join their teams honored at the White House.
Since the trip to the White House has become as synonymous as saying "I'm going to Disney!" when you win a championship, it's not really shocking that teams are celebrated by the White House today. Of course, it's up to the players to decide how to navigate the situation in these extremely divisive political times, but it's likely that some faction of the team will travel to the White House and celebrate winning that shiny new hardware.