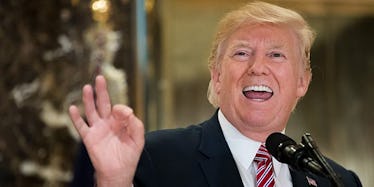 Trump Blames "Fake News" For Misrepresenting His Charlottesville Comments, Again
Drew Angerer/Getty Images
As ever, President Donald Trump is not laying down and taking criticism quietly. On Thursday morning, Aug. 17, via a series of tweets, Trump blamed "fake news" for misrepresenting his Charlottesville comments while also attacking Republican senators who have spoken out against him. In one of the tweets, the president said,
The public is learning (even more so) how dishonest the Fake News is. They totally misrepresent what I say about hate, bigotry etc. Shame!
Trump has been roundly criticized for his comments on protests in Charlottesville, Virginia -- the president attributed blame for bigotry and violence to "many sides," a point which has been regarded as a failure to condemn white supremacists -- by politicians and media members across the political spectrum.
On the ground, however, his comments appear to have the approval of a majority of Republicans. A CBS News poll found that 67 percent of Republicans approved of the president's reaction to the protests. Meanwhile, GOP activists have scolded congressional Republicans for criticizing the president's remarks, according to McClatchy.
One of those congressional Republicans is Sen. Lindsey Graham, who directly called out Trump via a statement issued on Wednesday. In the statement, Graham said,
Mr. President, I encourage you to try to bring us together as a nation after this horrific event in Charlottesville. Your words are dividing Americans, not healing them.
On Thursday morning, Trump fired back.
Trump's remarks in the tweets above -- about Graham's "election trouncing" -- is a clear allusion to the fact that Graham does, in fact, have a history of criticizing the president as far back as during the presidential campaign.
Just last month, Graham warned Trump that firing FBI special counsel Robert Mueller would lead to the "beginning of the end of his presidency," a not-so-subtle hint at the possibility of impeachment.
Trump had fiery words for another Republican senator on Thursday morning, too. The president criticized Jeff Flake as "weak" on multiple subjects. Meanwhile, Trump also promoted an opponent looking to take Flake's seat in the Senate.
Like Graham, Flake is another congressional Republican who has notably criticized Trump. In a recently released book, the Arizona senator scorched the Republican party for "creating" Trump.
Those comments seemed likely to put Flake in the president's crosshairs. On Thursday morning, that's exactly where Flake was, alongside Lindsey Graham and the media members who have criticized Trump's comments about Charlottesville.