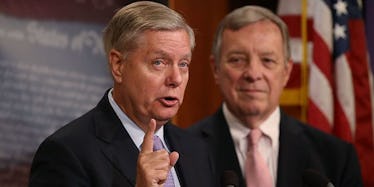 Republican Senator Basically Warns President Trump About Impeachment
Joe Raedle/Getty Images
Lindsey Graham was clear. The Republican senator said Donald Trump would have "holy hell" to pay if the president fired Attorney General Jeff Sessions. Graham also made an allusion to the possibility of impeachment, telling reporters on Thursday, July 27,
If Jeff Sessions is fired, there will be holy hell to pay. Any effort to go after Mueller could be the beginning of the end of the Trump presidency, unless Mueller did something wrong. Right now, I have no reason to believe that Mueller is compromised.
Graham's answer implies Congress is one Trump move away from being prompted to look into the prospect of impeachment. After all, that is the only way Graham and his colleagues could facilitate the "end of the Trump presidency."
To be clear, though, the "if" that Graham mentions is a big one. In other words, it's not yet clear whether Trump will fire Sessions or Mueller, the former FBI director and current independent investigator at the head of the Justice Department's Russia investigation.
However, the only reason the subject is worth talking about is because the president himself continues to give signs that he could make both firings.
Amid reports that he's frustrated at the progress of the investigation into possible ties between Russian efforts to influence the election and Trump's campaign, the president has hinted at the possibility of firing Mueller.
Most notably, Trump told the New York Times that Mueller would be crossing a red line if the former FBI director looked into the Trump family's finances.
As for the Attorney General, Trump has repeatedly criticized Sessions this week via Twitter. When asked by reporters whether Sessions would keep his job, Trump said, "we'll see what happens."
The issue that Graham and other Congress members have with the possibility of those firings is clear: Trump appears to be considering them because the president is unhappy with the course of a federal investigation to which his campaign is related.
Firing Mueller and Sessions would present a case in which Trump would inevitably be accused, at least verbally, of obstruction of justice, which is one of the two charges that brought former president Bill Clinton to impeachment.
Whether enough GOP members of Congress would be willing to consider bringing a similar fate to Trump's doorstep, particularly in the event of a Mueller firing, is unclear. But one Republican appears ready to consider it: Lindsey Graham.