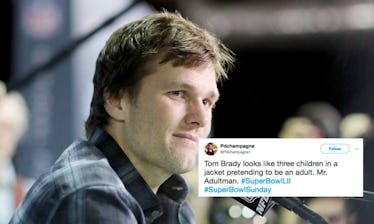 Twitter Is Roasting Tom Brady For The Jacket He Wore To The Super Bowl & It's Brutal
Elsa/Getty Images Sport/Getty Images
Tom Brady has graced Minneapolis with his presence... and so has his jacket. The Patriots player is married to a super model, but I had no idea what a fashion icon he truly is. The football star arrived ready to werk. Tom Brady's jacket at the 2018 Super Bowl has fans roasting him so hard on Twitter.
The player showed up to the Super Bowl looking straight out of the movie Zoolander in a grey peacoat that went down to (almost) his knees. Tom Brady is 6 feet 4 inches... that's one long coat. It was held together by six small buttons, and featured two pockets — for practical reasons, obvi. What does Tom Brady need to keep in his pockets on game day? Lip balm, his Patriots identification card, and a comb in case of helmet hair (I can only assume).
Brady looked chic AF with the collar popped and a black turtle neck underneath. He completed the look with trendy black sunglasses. Because fashion. His outfit has made it very clear that he's here to kick some Eagle ass and DGAF what anyone thinks about him or his coat.
However, people on Twitter could not let Brady in a peacoat pass by without a few comments.
In case you're wondering about this reference: Vincent Adultman is a character on BoJack Horseman who may or may not be a stack of children under a trench coat.
There's no denying the fashion.
Does Tom Brady care what I think? Not one bit. Like, I'm almost 100 percent certain he doesn't know I exist. Ranking as the 15th highest paid athlete in 2016 with an estimated net worth of of $44 million, he can wear any jacket he damn well pleases.
No matter what the result of the Super Bowl is — we will be getting a lot more of Tom Brady and his stylish jackets for at least another season. According to ESPN, Brady is signed on to play in 2019. Not that I know a ton about sports, but he did win Most Valuable Player on Feb. 3, so that must give him a little bit of job security.
One thing is for sure — Tom Brady wants us all to stop talking about his age. During an interview with NFL Network the quarterback said,
Why does everyone want me to retire so bad? I'm having fun, the team is doing good. I know I'm a little bit older than most of the guys, but I'm really enjoying it. ... So I'm not thinking about retirement.
Brady assured fans he loves being a Patriot, and plans to play as long as he can. As reported by ESPN, he explained,
I never want to be a detriment to the team. For me, as long as I'm playing at a high level, and I make the commitment to take care of myself year-round, then I'll continue to play. I don't know. Things change quickly. Anything can happen. But obviously, I want to keep playing. I love playing. And I love playing for the Patriots.
Tom Brady — if you want to play football, you play football. If you want to wear a grey peacoat to the Super Bowl, you wear the crap out of that peacoat.
While you may watch the Super Bowl for the touchdowns, field goals, and the final score, I watch to see what ridiculousness and interesting fashion choices are happening behind the scenes. I have one question for Tom Brady — wouldn't you be more comfortable in some Adidas sweats or some basketball shorts? Maybe next year.
Check out the entire Gen Why series and other videos on Facebook and the Bustle app across Apple TV, Roku, and Amazon Fire TV.