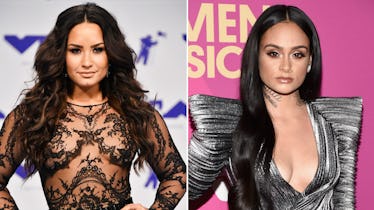 Demi Lovato Kissed Kehlani During A Concert & The Video Is Seriously Steamy
Frazer Harrison/Michael Kovac/Getty Images Entertainment/Getty Images
Oh, hello there. Did you know that Demi Lovato is wrapping up the U.S. portion of her Tell Me You Love Me tour, and that she had a very ~special~ guest named Kehlani join her onstage in Newark, New Jersey on Monday, April 2? You didn't? Well then you probably didn't know that there's a video of Demi Lovato kissing Kehlani during her concert, and let me tell you, it is steamy AF and I am absolutely living for it.
Before you start to say that this whole thing was planned, you *might* want to hear what Demi had to say about the hot and heavy moment.
Lovato went on BBC Radio 1's The Breakfast Show and talked about the kiss. "She came up behind me. I had no idea!," Lovato said. She continued, saying,
She told me she was going to be watching the show, so I was looking for her, and I didn't her out there so I was like, 'OK, I guess she decided to go or whatever.' And then all [of a] sudden I feel hands on my shoulders for this song "Lonely." I look up and it's her.
That's when fans saw the pair share a kiss, and it will actually melt your soul once you see the video.
"We just kissed each other. It wasn't planned. She totally surprised me and it was perfect, it was awesome." Lovato said.
One fan, Kimberly Trabulsi, was at the show and captured the glorious moment. She shared it to Twitter for the entire world to see (thanks for this, girl):
FAM, do you see this perfection?
It's just Demi Lovato chilling on a bed on stage, NBD. Then, you know, there's Kehlani, walking in like a smooth criminal from behind, giving Demi a back rub because hey, performing is hard. BUT THEN THAT KISS, THOUGH.
Holy hell, y'all, I need a minute.
"Seeing Demi and Kehlani kiss right in front of me was insane," Trabulsi told Elite Daily. "First of all, I couldn't believe it happened. They had spent the entire concert mentioning each other. Kehlani talked about Demi in the opening act and vise versa. I don't think anyone expected Kehlani to come out during "Lonely" and do that though," Trabulsi said.
But man, aren't we all hella glad they did?
So, does this mean that there might be a possible love connection here? "I think they're amazing and I hope this means they're dating!," Trabulsi said.
Um, same girl. Same.
Demi, could you please just tell us what all of this means?
LOL, nope, we honestly may never know.
But what we do know is that Demi Lovato has been very open about her sexuality in the past. In her YouTube documentary, Simply Complicated, Lovato spoke about how she couldn't care less about gender and just cares about how she connects with a person. She said:
I am open to human connection, so whether that's through a male or female, it doesn't matter to me. I do like athletes; there is something sexy about someone putting in all of their physical strength into their passion.
Lovato also told InStyle back in March, "I'm very fluid, and I think love is love ... You can find it in any gender. I like the freedom of being able to flirt with whoever I want."
Basically, if Demi Lovato finds you attractive, she'll happily slide into your DMs.
No matter what though, Lovato has consistently told her fans that she will always do what she feels is right, labels be damned. Back in September of 2017, she took to Twitter to tell her fans that she'll always "stand up" for her beliefs:
You guys, Demi Lovato is here to tell us that it's totally cool to love who you want to love. And you know, surprise-kissing someone on stage is also totally cool, too.