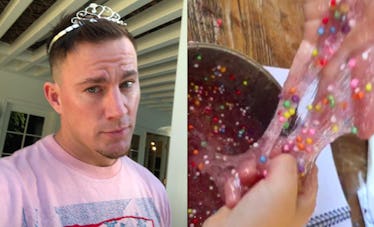 Channing Tatum Spent The Day Making Slime With His Adorable Daughter Everly
Channing Tatum on Instagram
Channing Tatum is one of my favorite celebrity dads. He earned that truly high honor when he appeared on Lip Sync Battle and sang "Let It Go" dressed in full Elsa garb because he and Jenna Dewan's daughter, Everly, loved the song so much. (OK, fine, it's also because he got Beyoncé to perform with him during his second performance.) What I'm trying to get at here is that he and Dewan do really cute things for their daughter, and this video of Channing Tatum making slime with his daughter is hella cute.
Tatum and Everly spent their post-Thanksgiving Sunday getting crafty making gooey pink slime together. You never see either of their faces in the videos on Tatum's story (he and Dewan make it a habit not to post pictures/videos of their daughter's face on social media), but the main attraction here is the slime, so that's OK.
The first video on Tatum's Instagram shows Everly (her parents call her Evie) trying and failing to get all of the slime off of her hands. "I really need to get this off," she says.
"Oh man," Tatum replies, "We are never getting this off."
The next videos show that Evie made a second batch of the slime that's significantly less sticky. Or, attempted to make a batch that's significantly less sticky — because it still looks pretty dang sticky to me,
Tatum asks her to explain how she changed the stickiness in the slime and Evie adorably responds, "I just used a little bit of the glue. Oh, wait a minute! You're copying me just to video me!"
Tatum laughs and says back, "'Cause it's crazy, Evie! You fixed it somehow."
He added one more video to his story of the slime, then he posted an excellent selfie wearing a tiara. The caption read, "That's a Sunday for ya!!!"
Before he was back home with Everly, Tatum spent the last few months joining Jessie J on her R.O.S.E. Tour. He and the singer are reportedly dating now, so he's been going to various stops on her tour so they could spend more time together and get to know each other better.
On Nov. 13, he posted an Instagram all but officially confirming their rumored romance.
"This woman just poured her heart out on stage at the Royal Albert Hall. Whoever was there got to witness something special. Wow," he said in the caption.
As for Jenna Dewan, she has reportedly started dating Tony-winning actor Steve Kazee since she and Tatum announced their split.
On April 2, 2018, Tatum and Dewan released their joint announcement revealing they were separating.
Y'all, I literally thought this happened over a year ago. That's how long 2018 has been.
The statement read in part,
We have lovingly chosen to separate as a couple. We fell deeply in love so many years ago and have had a magical journey together. Absolutely nothing has changed about how much we love one another, but love is a beautiful adventure that is taking us on different paths for now. There are no secrets nor salacious events at the root of our decision — just two best-friends realizing it's time to take some space and help each other live the most joyous, fulfilled lives as possible. We are still a family and will always be loving dedicated parents to Everly. We won't be commenting beyond this, and we thank you all in advance for respecting our family's privacy.
Love ain't dead! It's just changed.