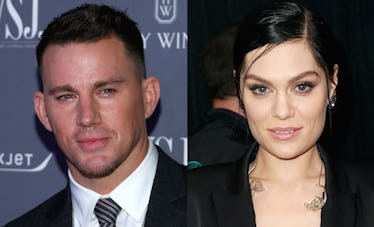 Channing Tatum Posted The Gushiest Instagram About Jessie J, So They're Probably A Couple
Lars Niki/Leon Bennett/Getty Images
Channing Tatum and Jessie J are a thing. The rumored relationship between the two has now been pretty much confirmed on the actor's Instagram, seeing as Channing Tatum's Instagram about Jessie J all but flat-out says, "I am dating this woman." The actor posted a photo of Jessie J performing at the Royal Albert Hall in London on Tuesday, Nov. 13, gushing about how impressed he was with her performance, and it's peak supportive boyfriend behavior. Elite Daily previously reached out to Tatum and Jessie's teams for confirmation on their rumored relationship, but did not hear back by the time of publication.
Rumors of Tatum and Jessie's romance first started in October. E! News reported at the time that the two had been spending a lot of time together and getting to know each other, and that Tatum would frequently attend Jessie's concerts in the U.S. while she's on her Rose Tour. "They've been hanging out a lot lately and he's excited about seeing her," a source previously told the outlet. "She's on the road, but he is very interested in getting to know her and doesn't mind tagging along."
The source added that Tatum was very invested in spending time with the singer. "He's making a lot of effort and wants to spend as much time with her as he can," the source said. "He's having fun with it and seeing where it goes. He's known her for awhile and always thought she was very talented."
Based on his Instagram post about Jessie J's performance at the Royal Albert Hall, I'd say yeah, he definitely thinks she's talented.
"This woman just poured her heart out on stage at the Royal Albert Hall," Tatum said on Instagram. "Whoever was there got to witness something special. Wow."
And he didn't stop there! Tatum also posted a video he took during the show to his Instagram story.
"She went off tonight!" Tatum said on his story.
Jessie J hasn't posted anything about Tatum from the concert on Nov. 13. (I mean, why would she? She's busy headlining a show at Royal Albert Hall. No time for men on this day!) But she did post a bunch of videos leading up to and during the performance. Tatum is in the crowd somewhere!
But she did show her support for Tatum at the London premiere of Magic Mike Live on Nov. 11.
She posted on her Instagram story about the show and said, "Magic Mike London Opening night. Congratulations @channingtatum. What a show.... Ladies and Gentlemen you don't want to miss this."
So it looks like Tatum and Jessie are officially a thing now. But I wouldn't mind a confirmation, guys! Fans' reactions are pretty mixed, but they mostly can't get over the fact that Jessie J and Jenna Dewan (Tatum's ex-wife) look a lot alike...
As for Jenna Dewan, she has apparently moved on as well and has reportedly been dating Tony winner Steve Kazee.
You've seen him on Shameless and Nashville, if you don't know Broadway. A source told People that Dewan and Kazee have reportedly "been dating for a couple [of] months and she's really happy." Elite Daily previously reached out to Dewan and Kazee's teams for comment on their reported relationship, but did not hear back by the time of publication.
At least we'll always have Step Up.