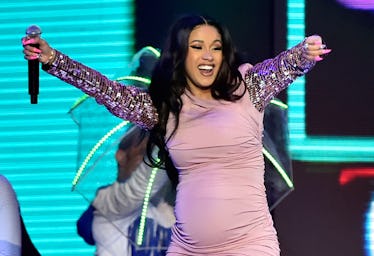 Cardi B's Video Of Her Baby Kicking In Her Belly Proves She's Ready To Pop At Any Second
David Becker/Getty Images Entertainment/Getty Images
Dude. Cardi B's baby is COMING. The "Bodak Yellow" rapper just posted a video of her baby going wild in her stomach and it is alarming, exciting, shocking, all the "ing" adjectives you can think of! It's, like, intellectually I know babies grow inside other humans, but it's a totally different thing to see it happening in real time! The video of Cardi B's baby visibly kicking has my personal biological clock on "pause" for now, but it seems like it's all systems go for this baby and her mama.
Reports suggest Cardi B is due with her first child in very early July, which is... like... now. Cardi B and her husband (yup, husband) Offset seem pleased as punch about the one's impending due date and recently threw an epic baby shower. The couple confirmed they're expecting a little baby girl and had an awesome pink party in her honor. The theme was "A Bronx Fairytale" and kicked off at 9 p.m. because that's how Cardi B rolls. Her words, not mine. She told Rolling Stone,
My baby shower's not starting at no 5:00. My sh*t is going to start at 9 p.m. because that's how I celebrate, that's how Caribbean people celebrate. I don't like baby showers that be at 5 p.m. in the backyard, cooking, eating hors-d'oeuvres. Nah. Sh*t, I might even drink some red wine!
Here's a quick video of the party and an aptly themed "Bardi Baby Bodega."
It looks like at least one trait has already passed on from mother to baby. Cardi B's little one clearly already knows how to get down.
On Monday, July 2, Cardi B shared a video of her stomach where you can clearly see some extreme baby movement going on inside. Cardi B claims the kicking had been going on for hours at this point. She said, "This baby today is bugging. This has been going on for hours. I've been trying to take a nap and I can't. Like, I don't know what's going on. It's like she's in the club or something in there. Like, oh my god." She added, "For hours... it's like she's mad at me or something."
She then talked to the baby directly, adding, "I know you wanna come out but god damn don't do me like this. I'm nice to you. I give you everything you wanna eat."
Check it out.
Is that wild or what? (Can you tell I don't have kids of my own yet?)
Cardi B has seemed more than chill and prepared for this baby despite the initial public shock and surprise of her pregnancy. She and Offset apparently got hitched in a secret wedding, (which is out of character???), way before the public saw their engagement. Now, they're officially settling in to family life together. In fact, Cardi B made the decision to let the public in on her marriage as a result of haters claiming her baby is out of wedlock. She wrote a lengthy note on Twitter detailing the specifics of her and Offset's "I dos" and signed off by saying, "Well now since you lil nosey f*cks know at least ya can stop saying I had a baby out of wedlock."
She accompanied the message with the tweet: "This why I name my album 'Invasion of privacy' cause people will do the most to be nosey about your life. Welp f*ck it."
Honestly? I am dying to meet the woman these two created. By the looks of Cardi's video, she's ready to meet the world, too.
Check out the entire Gen Why series and other videos on Facebook and the Bustle app across Apple TV, Roku, and Amazon Fire TV.