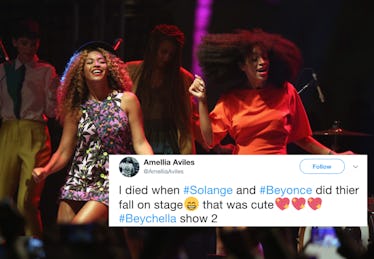 Beyoncé & Solange Fell During Their Coachella Performance & Twitter's Reaction Was Everything
Imeh Akpanudosen/Getty Images Entertainment/Getty Images
Even if you're not an official member of the Bey Hive, you probably know Beyoncé took the stage for her second Coachella performance at the music festival this weekend. Queen Bey was joined by her sister Solange on Saturday, April 21, and the pair put on quite a show during Solange's cameo on stage. The sisters may have gotten a little too into the performance, but this video of Beyoncé and Solange's fall at Coachella is here to prove what you already know: They're both still "Flawless."
It pretty much goes without saying that whatever Queen Bey does on stage is perfection, including when she falls and momentarily reveals she might be a mere mortal like the rest of us. As you would expect of her, though, Beyoncé recovered from the fall in the most Beyoncé way possible. As she was performing and dancing with her sister, Bey went to pick up Solange, and the two both wound up on the ground, according to video of the performance that was posted to Twitter. Without missing a beat, the sisters both laughed it off and kicked their feet around in the air before getting back up.
It seems as though there is no bad blood between the sisters, because immediately following the fall, Beyoncé can be heard in the video saying, "Give it up for my sister!"
Fans seem to have found the entire "mishap" itself adorably endearing, and they made it known on Twitter.
Some fans on Twitter proposed their own reason why the sisters made the fall look so dang good: It was on purpose. There's no word from Beyoncé on whether the fall was planned or not, but some of her faithful fans believe Queen Bey was in on in it from the start.
Whether or not Beyoncé planned the fall, she and Solange recovered flawlessly, because (duh!) they're Beyoncé and Solange.
Bey put on quite a show for her second Coachella performance, and while much of the music she performed was the same as the prior weekend's performance, she made sure to really switch up the wardrobe this time around. Last weekend was filled with all the yellow outfits, and Saturday's performance was all about the pink, according to ELLE. Balmain was responsible for Beyoncé's performance looks, and they also included some regal attire that was oh-so-fitting for Queen Bey.
#Beychella was clearly going strong the second weekend in, and Beyoncé delivered another incredible performance that included another Destiny's Child reunion and a performance of "Deja Vu" with her husband JAY-Z. Those cameos were both included in last week's performance, but Bey did bring out a new guest on Saturday when she performed "Mi Gente" with J Balvin.
Another superstar who shared the stage with Beyoncé on Saturday was none other than Solange. Their fall wasn't the only story of their performance. The sisters also had a killer dance-off to "Get Me Bodied."
It's safe to say anyone who wasn't at Beychella is sufficiently jealous of all the lucky members of the Bey Hive who were in the audience during her performances in Indio, California these past two weekends.
Thankfully, you have a chance to see Bey in concert with JAY-Z this summer, since the couple announced their On The Run 2 tour back in March. Tickets to the follow-up to the 2014 On The Run tour went on sale March 16, so I'd start looking for any available tickets ASAP to make sure you catch Bey and Jay when they come to your city. The tour kicks off in Europe on June 6 and heads stateside on July 25. That's plenty of time to learn all of Bey's Coachella moves, right?