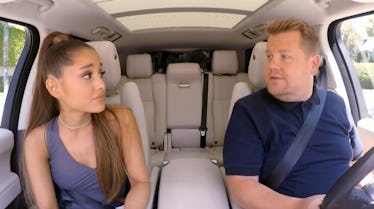 Ariana Grande Got So Freaked Out In James Corden's Haunted Escape Room, She Hurt Herself
YouTube
Full disclaimer: I think James Corden is the best. I like his whole deal. I love Carpool Karaoke. I love when he hosts awards shows. And I loved him in Into The Woods. So, of course, when he asked pop-star Ariana Grande to participate in a scary escape room with him, I was all the way in. I give the video of Ariana Grande going through a haunted escape room a five out of five stars. Happy Halloween to me.
You guys know the deal. Corden usually picks up his favorite musicians or celebrity friends to rock out in his car to the delight of his audience. While Grande's traditional Carpool Karaoke segment was a wild ride, her journey into the spooky room was so much more fun. For those of you who aren't familiar with escape rooms, the premise is simple. Basically, participants need to solve a variety of puzzles using clues to "escape" whatever room they're in. The rooms are usually themed and can be made to look like anything; a locker room, a library, a restaurant, Santa's toy shop, etc. In this case, Corden chose a scary AF Halloween-themed room. I should mention, it normally takes a small group of five to eight people to figure these things out, but Grande and Corden were confident.
Even though I just watched the footage from the safety of my own couch, it still looked really frightening. Viewers can tell Grande and Corden dip in and out of dimly lit rooms into totally pitch black areas. This escape room also came with real-life human characters who jumped out and scared Corden and Grande. They wandered down a terrifying hallway, crawled into a narrow crawlspace, and worked on a skeleton-wall puzzle. Towards the very end, a man in a horrific mask crawled on all fours causing Ari to totally freak out.
As she was dodging the intruder, her heel got caught on something sending her pummeling to the floor. She left the escape room cursing up a storm with Corden running after her asking, "Are you OK? Are you OK?"
Frankly, the whole thing is hilarious to watch.
Please, enjoy the next six minutes of your life.
Even with all the dark corners and jump-worthy moments, Grande fans are sure to notice one extra thing about this video. At the end when she and Corden are getting back in the car, Grande holds up her hand to show off her injury. There, right above her bandage, you can see the ginormous engagement ring Pete Davidson gave to her.
Even though this segment aired on Tuesday, Oct. 30, fans can easily deduce it was filmed a while ago. That's because in mid-October, Grande and Davidson reportedly called off their engagement, prompting her to reportedly give the ring back. In fact, if you look back to her classic Carpool Karaoke segment from August 2018, you can see Grande and Corden are wearing the exact same outfits and Grande's hand is still bandaged from her escape room tumble.
Hollywood is weird, isn't it?