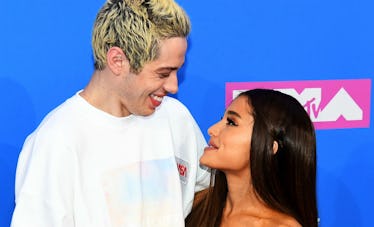 This Ariana Grande & Pete Davidson Relationship Update Could Mean Things Are Truly Over
Nicholas Hunt/Getty Images Entertainment/Getty Images
You know what they say. It's not over until the fat lady sings or until Ariana Grande gives her engagement ring back to Pete Davidson. So, I guess it's over. According to reports, Ariana Grande returned her engagement ring to Pete Davidson which would confirm the famous couple has officially broken up. The "God Is A Woman" singer and Saturday Night Live comedian were together for about five months before calling it off. It's almost like nothing gold can stay, ya know? Elite Daily reached out to Grande's team for comment regarding her ring but did not hear back by the time of publication.
If you've turned on your TV, phone, or computer in the last few months you surely caught wind of this wild romance. Davidson and Grande announced their relationship at the end of May just after she broke up with her late ex-boyfriend, Mac Miller, and Davidson broke up with his long-term ex-girlfriend, Cazzie David. Within a few weeks, Davidson gave Grande a massive 3.03-carat pear-shaped diamond and fans lost their minds. Oh yeah, they also got a few matching tattoos and displayed some serious PDA, too. For all intents and purposes, this wedding was a go. Thanks to trolls and haters, Davidson made the decision to hop off of Instagram and focus on his relationship with Grande. She also tinkered with taking a break from Twitter and Instagram, though pictures of Davidson still remain on her feed as of Oct. 16.
According to E! News, Davidson knew he wanted to give Grande the ring at the very beginning of their relationship. Celebrity jeweler Greg Yuna told E!, "Pete called me at the end of May and said, 'Look, I'm getting a ring. This is what I want.' And I told him that I had the right ring for him." At the time, Davidson reportedly didn't tell Yuna anything about the ring, who it was for, or why he was purchasing it. E! reports the ring cost him about $93,000.
On Tuesday, Oct. 17, TMZ reported Grande gave her ring back with no trouble. The outlet reports they were told Davidson "bought it in contemplation of marriage and she was quick to fork it over." Ouch. Reports about their breakup first hit the public a few days prior on Sunday, Oct. 14. TMZ also pointed to the death of Mac Miller as a "breaking point" for Grande and Davidson.
According to the report, Mac Miller was found in his San Fernando Valley home on Friday, Sept. 7 and "was pronounced dead at the scene" due to a reported drug overdose. Elite Daily reached out for comment on the report of his death and reported drug overdose, but did not hear back at the time of publication. After that, Ariana Grande reportedly took a "fame break," which included avoiding the 2018 Emmy Awards. Davidson stuck by her side during that time.
It's hard to say what Davidson will do with the ring now that it's reportedly back in his possession. If it were me, I'd repurpose the hell out of it.
Best of luck you guys, missing and loving you.