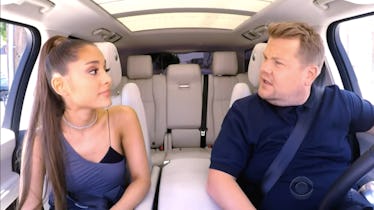 Ariana Grande Just Addressed Rumors She's Pregnant On 'Carpool Karaoke,' Of All Places
YouTube
Ariana Grande's Carpool Karaoke episode is here, and she's here to remind you that she's a better singer than you (in case we all forgot). The singer appeared alongside James Corden in the now classic segment and sang some of her bops like "No Tears Left To Cry" and "Side to Side," but she also shot down some rumors about her and Pete Davidson. Ariana Grande's response to pregnancy rumors on "Carpool Karaoke" set matters straight real quick.
Corden asked Grande what the most ridiculous rumor she's heard about herself was. Right off the bat, she said, "There's tons of pregnancy stuff. People really want me to be pregnant. They want it. They want it so bad. Every other week there's a pregnancy thing." But she's not pregnant, fam, so if that was your theory as to why her and Pete Davidson got together, hate to burst your bubble there.
Before you even get to that part of the video, though, you have to make it through the beginning of the video where Grande belts "Dangerous Woman" as if her life depended on it. Seriously, Ariana, who gave you the right to have these vocals?! And how do you make it look so easy?!
Fast-forward to the 1:14 mark and get ready to be humbled.
Oh, you thought you could sing? So sorry about that.
Corden also asked her to confirm or deny the rumors that she demands to be carried everywhere by her security guards. "I'll tell you what happened," she said. "There was a picture of me being carried by my tour manager because I had just shot a video in pointe shoes. And I posted it because I thought it was cute!" She continued, "My toes were bleeding! I was, like, in pain. I was like, 'Oh, cute. Thank you for...' like, whatever."
In case you've never heard about this, before Grande was the massive pop star she is now, a rumor spread back in 2014 that Ariana Grande demanded to be carried around like a child when she was exhausted. But that's just not true.
Grande set that record straight in Carpool Karaoke, but she also cleared things up on the actual Instagram post a long time ago.
The Instagram she mentioned to Corden is still up on her account. It was posted in March 2014, and the original caption said, "long shoot day yesterday, couldn't walk or keep my eyes open by the time we finished. gonna be a beautiful video! repost my girl." She edited it and added some clarification after rumors spread that she frequently demands to be carried this way. "By the way to everyone who's coming back to this photo to argue about my rumored behavior," the caption said, "thats my friend griffin carrying me. we were laughing and talking about life on our way to the car. we wrapped at 5am and I was doing pointe for an hour."
It went on,
it was for ["Don't Be Gone Too Long"].. I took the time to shake everybody's hand who worked on the set and say thank you.. my toes were LITERALLY BLEEDING. so yes i asked my friend to carry my to the car. I'm human!!!! and I'm proud of who I'm becoming. sending you love.
To really troll people, Corden and Grande stopped into a Starbucks to get some coffee and Corden carried her on his back the whole time. And yes, she did order a grande-sized coffee. Ariana Grande, Riff Extraordinaire, Belt Master, Troller of the Trolls.
As for Grande's singing during "Carpool Karaoke," fans are shook.
My ears are ready for Sweetener.