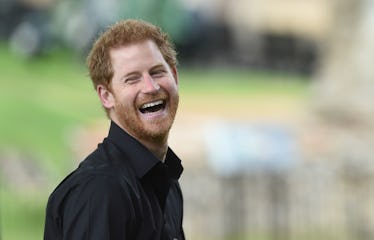 A Pony Tried To Bite Prince Harry In Scotland & The Video Is So Funny
Stuart C. Wilson/Getty Images Entertainment/Getty Images
There's a lot going on in Prince Harry's world. He's representing an entire nation, planning a wedding, getting bit by livestock... you guys know the drill. There's a video of a pony trying to bite Prince Harry circulating, and it's one of those sweet little gifts the internet delivers us every now and then to keep us going through the week. If you're feeling like, "Man, I wish my day wasn't my day," peep this hilarious video of a literal prince getting bit by a literal miniature horse and see if that gives you new perspective.
It's a classic story: Man and woman go to some sort of special event in Scotland because they're royalty and they have to do these things. Man goes to pet Pony, and Pony isn't having it.
To kick off Prince Harry and Meghan Markle's visit to Scotland, they swung by Edinburgh Castle. Upon their arrival, they were greeted by the mascot of The Royal Regiment of Scotland, which is a sweet little Shetland pony named Cruachan. Cruachan was looking particularly spiffy in a plaid green coat and fluffy hair-do, and he was also accompanied by the Band of the Royal Marines.
Either Prince Harry had something tasty on his fingers or Cruachan wasn't in a prancing mood. As Harry bent down to say hello, the pony took a little nibble at his hand. Markle hilariously stepped back a bit, and Prince Harry seemed to mouth the word, "Hey!" I think Markle even says, "He has a little personality," too, but it's hard to be sure. You guys tell me.
HERE IT IS FROM ANOTHER ANGLE!
It's fine. Prince Harry has way bigger fish to fry. He and his fiancée are busy planning their super huge (and super soon) wedding for May 19, 2018, and I can't imagine the hysteria going on behind the scenes. Fortunately, the venue is already picked out, and now it's all about managing the tiny details. (You know, like transportation for the Queen, what color napkins Prince Charles wants to wipe his mouth with, and what the heck everyone should wear.)
The public has seen a few sketches of what Markle's dress could look like, and if it's anything close to the drawings, we know it's going to be spectacular. The designer in question is Israeli bridal designer Inbal Dror, who is known for combining elegant lace, intricate detail, and classic silhouettes. Markle is somewhat of a fashion expert herself, so we can only imagine what the final result is going to be.
My fingers are crossed that Harry is going to wear a pale, baby blue suit, but something tells me there's a specific uniform protocol he is going to have to follow. Call it a hunch (or years and years of tradition).
Still, despite royal standards, an insider says Markle and Harry will be doing things a little differently than the famous couples that have come before them.
An insider told US Weekly,
The day of the wedding itself will certainly hold a few unconventional surprises. Don't expect a royal wedding by numbers. They want to involve their friends and family as much in as much as possible throughout the day.
A source from the Palace also reportedly said,
Harry has never been one to follow instructions and both he and Meghan are extremely independent individuals. I wouldn't imagine for one second that they plan to sit back and be told what to do — and they won't... Their romance feels refreshingly modern and I think that's something that everyone at Kensington Palace has felt incredibly excited by.
Just one question, does Cruachan have an invitation, or nah?
Check out the entire Gen Why series and other videos on Facebook and the Bustle app across Apple TV, Roku, and Amazon Fire TV.