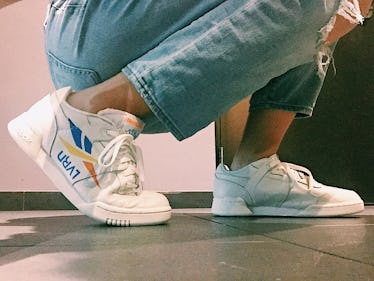 This Reebok Classics X LVRN Sneaker Drop Is The Only Shoe You Need This Summer
It's finally May, and I'm starting to get a little taste of the summer months ahead. People are shedding their heaviest winter coats for cute lighter ones, and filling Instagram with color, courtesy of the blooming flowers that seemingly pop up over night. But, if you're anything like me, you might start to find yourself in the age-old battle that definitely goes on intensely in the safety of your head because you're too embarrassed to say it out loud: Can I still keep wearing my heavy combat boots through into the summer? Normally for me, the answer is a resounding yes, but for some reason, this summer feels a little different. Maybe stumbling across the new sneaker release for the summer 2018 has something to do with my changing mindset?
Yes, I'm a goth at heart, but for some reason, the warm weather is begging for me to put a spring in my step, and who am I to argue with the fashion gods? This season's hottest sneaker trends are also filled with unique collabs, which means you have to cop them as soon as they drop, which was, like... yesterday. It also means that if you totally stan over a certain celeb or group, you might be able to show your love all summer long by snagging their merch.
This season in particular, the music industry is taking over the sneaker biz. Miley Cyrus's Converse collab drops this month and just last week, on April 26, Atlanta creative collective, LVRN (responsible for names like D.R.A.M. and 6LACK) worked with Reebok to drop the 3 AM collection, centered around Atlanta culture and born from the founders of LVRN and artist FRKO RICO (who notably worked on Action Bronson's cover art for Mr. Wonderful). The result is an exclusive collection with Reebok Classics, featuring three pairs of sneakers with a flipped logo, which, I learned from the LVRN co-founders, is a nod to the anti-establishment headband flip Allen Iverson used to rock in the NBA, before upside-down headbands were banned in the league.
It's these small details that make the collab both timeless and ready-to-wear in 2018.
How To Wear Them
For years, it's been my personal belief that chunky combat boots go with everything. I love the way they look with short shorts and baggy shirts in the summer, and they're the perfect top addition to my cigarette-leg high-waisted pants when I'm still trying to look like a badass even though I'm rocking a baby pink crop top.
But the one thing combat boots don't go with (and yes, I'm willing to hear your opinions on this, but they're probably wrong) is a wide-legged pant. It doesn't matter if they're high-waisted, fall at the hips, are of a dressier material, or straight up made with blue jean fabric; if you're looking to rock this trend this summer, you need a crisp white sneak.
I love this pair of wide-legged black jeans from Frank and Oak, but since I'm experimenting with a new cut that falls at the calves, I felt they could easily lose their relaxed and edgy vibe if I didn't have the right shoe. Pairing these pants with a clean white sneaker is the perfect way to keep the look relaxed, comfortable, but also super cute. And, in case you were wondering, I absolutely refuse to wear flats in any circumstance whatsoever, so those aren't even an option here.
For so long, my combat boots have been my source of comfort. When people broke out their summer sandals, I assured everyone my thick leather boots definitely didn't make my feet beg for fresh air. I'm still super weary about sandals (something about them looks just a little too relaxed for me), but I think swapping them out for sneakers this summer not only gives me way more options (and will at least let my ankles breathe), but also helps give me the relaxed and airy vibe I've been looking for. Summer 2018 is the perfect time to take advantage of these new sneaker trends, which go beyond the classics (think solid color Vans, black Chuck Taylors, etc.) and give creatives real options to work with.
You can shop the Reebok Classics 3 AM collection online, though my personal favorite — the sneakers with the Reebok logo in the MARTA map color way — are already sold out (and aren't coming back, according to Reebok), the other two pairs are still available. The best part is, I finally, at 27, have more than one look to rock this summer and so can you. Sandals can be so stressful to get right, so in my opinion, it's fun to try a new comfy and crisp look with sneakers.