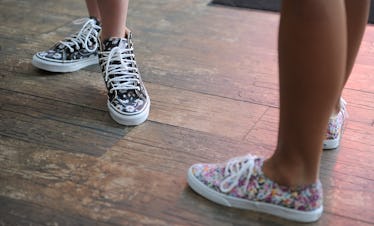 Outrageous Sneakers Are The Official Shoe Trend Of Summer 2018, So Goodbye, Sandals
Angela Weiss/Getty Images Entertainment/Getty Images
I'm a four-pairs-of-shoes kind of girl. Sure, I own more than that, but on the regular, I tend to stick to my Vans, a pair of sandals, a pair of heeled booties, and a pair of flat booties. Summer 2018 shoe trends include sneakers in an array of colors, prints, and finishes, so I just might need to add a new pair of kicks (or five) to my rotation this season.
Typically, I buy all of the aforementioned footwear styles that I stick to in black. Black shoes go with literally everything and as an ex-New Yorker of eight years about two-thirds of my wardrobe is comprised of the midnight hue or denim. All my bags are black, most of my coats are black, and my favorite six shirts are black. In short, leather booties, sandals, and sneakers in the shade just make sense for me and allow me to put together coordinated outfits with little effort. However, thanks to new pastel offerings by Vans, Nike, Converse, and pretty much every mega shoe brand ever, I'm starting to reconsider my sartorial habits. And it's not just because of the pastels, either. Cool prints, new takes on the versatile white sneaker, metallics, customization options, throwback silhouettes (read: dad sneakers), and more are having a major moment for summer and I want in. Here are the eight sneakers I' currently have my eye on.
Walking on Sunshine
These are slightly '80s in all the right ways, from the yellow and red geometric shapes to the chunky platforms. They're slightly weird and that's what I love about them. Anything that can make you look twice is worth considering.
Baby Metal
Bubblegum pink metallic Supergas? Check, check, and check. I'd wear them with jeans and a graphic tee 24/7, or to every festival I attended ever.
Twinkle Toes
These. Are. So. Sick. I'm a Vans girl through and through and these just rose to the top of my "favorite shoes ever" list. I love the blue glitter and classic checkers combination and can see myself wearing these with my denim and black shirts all day, every day. The best part? They're customizable—you can mix and match various prints and colors however your heart pleases.
I'm Doing Grape
The pastel sneakers of my dreams. Featuring a nubuck finish and all-purple everything, classic Reebok sneakers got a deliciously lilac upgrade. I'd pair them with bright floral dresses for an especially cool effect.
Coming Up Daisies
Somehow these flower printed sneakers could still go with everything. They're like happiness in a chic shoe and still boast a subtle edginess thanks to their platform and black accents.
Spotty Service
I've been a fan of Converse since middle school and they continue to churn out amazing collaborations and unique designs. Take, for example, this pair of clown-tastic platform sneakers. Covered in polkadots from top to sole, they're all kinds of tastefully playful. The brand's signature star still holds court on the outside of each shoe.
Santa's Little Helpers
Do you find these incredibly weird? You're not alone. To me, they look like very modern shoes fit for Santa's elves. But hey, the sock-sneaker shoe style is trending and if you're into it you should absolutely rock it, whether you live near the North Pole or not. High fashion designers and street style stars, alike are in total support of the trend.
Happy Feet
Rainbow is trending and, to me, glitter will always be cool. So basically, these are the pinnacle of cool (hahaha). But really, these platform sneakers are everything a summer shoe should be: bright, cheery, and lighthearted.