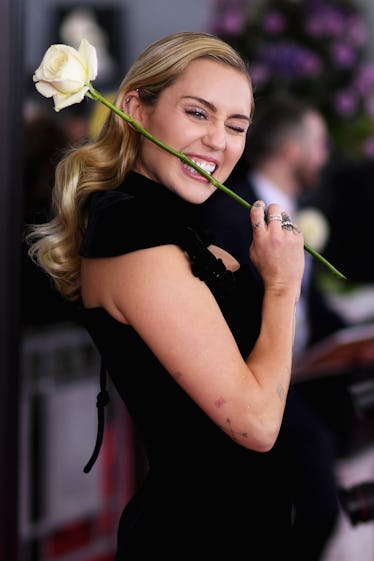 Miley Cyrus Designed A Line Of Converse Sneakers & You'll Want Every Single Pair
Dimitrios Kambouris/Getty Images Entertainment/Getty Images
The first heartbreak I ever experienced was the day I grew out of my white platform sneakers. I always swore I would find a pair in honor of my first love, and finally, my dreams have become a reality: Miley Cyrus is designing kicks for Converse, everyone. When does Miley Cyrus X Converse drop?Y'all are in for a treat!
Everyone needs a pair of Chuck Taylors in their closet for casual days. After seeing a sneak peek of the line though, I think this collection is going to take us from the office to Sunday brunch with our besties. While the world was celebrating the day of love (whether it be with your significant other or self-love) Miley Cyrus dropped a set of V-Day pictures. To the unassuming eye, one would think they were just an ode to Liam Hemsworth, but they're actually for us. Featured in the pictures, Cyrus is wearing a pair of her upcoming sneaker collab with Converse. What did I do to deserve this?
Although the '50s housewife shoot is adorable, my eye zeroed in on the shoes. Are those a pair of platform, glitter Chuck Taylors?! Why yes my friends, today my prayers have been answered.
The first time Cyrus tipped us off that a collection was in the works was back in November 2017. She posted Instagram shots of her glitter, high-top, low-top, and platform designs. Honestly, I'm ashamed because I missed this moment. She then took to Instagram on Feb. 11 to model some more of the shoes.
Since she's been dropping hints for the past couple months, and even told followers the "MC X Converse" line was dropping "soon," the release date could be any day now. Since I want an excuse to gush over these shoes even more, below are a couple pictures. Picture me huddled over my phone like Gollum.
The Avril Lavigne Of Chuck Taylors
Cyrus chose to keep this photo black and white, but in the caption, she states that this stacked heel design has a "glitterized sole and laces". Daria would have been all over these shoes if she was a millennial.
The "Pretty In Pink" High Top Chuck Taylors
Tell me these shoes don't make you happy? Pink and glitter in one shoe is too much for my heart to handle. Brb, I'm just going to dream about all of the outfits that could be curated around these shoes.
The "This Is What Dreams Are Made Of" Chuck Taylors
I've officially lost my cool. I may have officially died and gone to heaven. This is me in a shoe. Pink, flatform heel, and glitter is everything I needed and more in my life.
The Minnie Mouse Of Chuck Taylors
This collection is all about the details. These shoes are already super cute with the silver, glitter sole, but there's actually another added touch. The MC charm gives the shoes a Mickey/Minnie Mouse feel. I normally don't get "baby fever" (dogs are a different story), but here I'm tearing up over the idea of matching with a future daughter.
The Rebel Without A Cause Chuck Taylors
How sick is this pair with the detailed embroidered sole? If you're not into the whole pink and glitter design, this bandanna inspired shoe is a must-have. These scream emo, but make it fashion.
Right now, the release date for Miley's Converse lineup is still TBD, but what I can tell you is that it's bound to be soon. In the meantime, start saving up your coins, because you're going to want more than one pair. Love you Miley, love you Converse, never change.