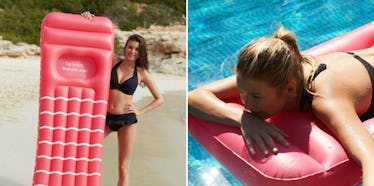 This Pool Float Has An Opening For Your Boobs To Rest In & I Never Knew I Needed This
When in doubt, float it out — am I right? Summer is finally in session, which means that you get to trade in all of those textbooks for beach days. You and your besties have already put the beach chairs in your car, and maybe even planned a cute camping trip for the sunniest months of the year. Nothing quite makes those barbecues and bonfires better than your friends and guaranteed fun in the sun. You bought those bikinis months ago, but you're still in search of the perfect pool float. This pool float has an opening for your boobs to rest in, and let's be honest, you never knew you needed it.
Think about it: Summer is meant to be a time to get relaxed and recharged. You just always believed that being among the palm trees or sitting poolside would be enough. What you didn't know is that scoring the right float would make your summer even more memorable — not to mention, super comfortable. It's safe to say, the brand Bravissimo truly thought of it all with this pretty perfect product.
Now, I'm not necessarily the most built when it comes to boobs. But, I can still appreciate the fact that this float is so supportive. When you're laying down on a beach blanket, it's always a struggle to find a position that isn't totally crushing your front side. You try to dig a hole in the sand, or settle for an inner tube instead. Investing in this pool float that puts your boobs as a priority will wash those worries away better than the waves.
What's the story behind this pool float?
Well, this pool float actually all started with a joke. The brand Bravissimo posted about a potential product, with every intention of fooling their followers. What they didn't expect was an overwhelming amount of positive responses to create a pool float that touched on a problem nobody's really addressed. According to Bravissimo's website,
When we posted on our social networks an April Fools' joke about developing a lilo with room for your boobs, we were not expecting hundreds of you to tell us that you really, really wanted one... but your reaction made it clear that we had to do it!
The crowd had spoken, so naturally, the brand had to produce a product that the world truly needed. I mean, think about how many girls will be able to relax in a pool without feeling like it's one big booby trap. There's literally a dip right where your chest is, so that you can lay on your stomach and not feel totally squished in the process.
"We turned it around in record time to make sure you could buy one in time for summer – so here it is." Bravissimo continued in their statement of the product, "We really hope it floats your boat!" It's pretty safe to say, this pool float is floating our boat, and our boobs.
Why do you and your girls need to get one ASAP?
If it wasn't already obvious, this pool float will change your life, and probably your summer, too. It's the accessory you truly didn't know you needed. While planning your Fourth of July outfits, you were so sure to purchase a new pair of sunnies and even considered a new beach bag to accompany that festive one-piece suit. But, you completely overlooked the one thing you probably should have bought right away.
For only $45, you can purchase this pool float, and let your boobs live the life of luxury this summer. Maybe you and your girls split it and pass around a slice of paradise for the next few months, or maybe you splurge and keep the comfort all to yourself. Either way, this pool float is a must-have, and will truly be the MVP of any party. (Seriously, keep your eyes on it, or at least call dibs. Your friends are going to want to spend hours in the serenity!)
Hakuna ma-tatas! It means no more worries for your boobs, thanks to this one-of-a-kind pool float.