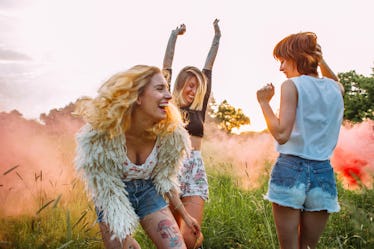 This Playlist For Your Galentine's Day Party Will Seriously Give You Life
Studio Firma/Stocksy
Look, I think it's about damn time to break Valentine's Day tradition. Flowers and chocolates are great and all, but do we really need to dedicate a day to our significant other? Don't we express love and gratitude to that person every day (well, almost every day)? Instead, give your partner a Valentine's Day rain check and get together with some other important people in your life: YOUR LADIES, duh. Let's face it: When the squad decides to get together, you know that you're in for a night of stomach-hurting laughter, a sh*t-ton of wine, and maybe a spontaneous midnight dance party. And you're in luck, because we've got the best playlist for your Galentine's Day party that will keep you and your ladies rocking out until the wee hours of the night (but 9 p.m. is also acceptable).
So, whether your single or taken (or debating whether or not to swipe left or right), put all of that nonsense to the side. Get your girls together and have yourselves a little soirée. These tunes below make one hell of a #girlpower playlist, so get ready to say "boy, bye" to Valentine's Day and helloooo, Galentine's Day.
"Run The World (Girls)" by Beyoncé
I mean, did you really think Queen Bey wouldn't appear at the top of this list? This song is all about how badass women are, and will probably get your entire gang up on the table twerking.
Or, you know, attempting to twerk.
"Can't Get Enough Of Myself" by Santigold
This upbeat, catchy song just makes you feel good. Plus, listening to Santigold's lyrics makes you feel like a BFD when you sing along. When she sings, "All I wanna do is what I do well, ain't a gambler but honey I'd put money on myself," I just can't help but nod along in agreement.
Your ladies will thank you for introducing you to this song, I promise.
"Just A Girl" by No Doubt
Let's take it back. Wayyy back, to a simpler time where Gwen Stefani was still a part of the band No Doubt, and her angsty voice just resonated with your teenage soul.
There is literally nothing in this world that will make you want to find a guitar and smash it on the ground more than this tune. Sadly, I can't endorse this, so might I suggest a little air guitar instead?
"Shake It Out" by Florence + The Machine
Florence is my JAM. She's a powerhouse of a singer, and writes ridiculously amazing songs, and "Shake It Out" is no different. This is the kind of song where you and your friends can jump up on the couch and dance around to.
Using a hairbrush as a microphone to this song is HIGHLY encouraged, BTW. Just in case you were wondering.
"BO$$" by Fifth Harmony
"I'm a Maybach and you's a Volvo." Do we really need to give you more of a reason to listen to this song with your ladies? (We don't, but we will.)
When you throw badass women like Oprah and Michelle Obama in the lyrics in your song, you KNOW that this tune is going places (like my iTunes).
"Sit Still, Look Pretty" by Daya
Proving that we're all not just pretty faces, this song will make you raise your drink in the air and yell "PREACH, QUEEN!"
This song might also make you text your significant other and tell them that you don't need diamonds and you're not on this green earth simply to be arm candy.
But if they want to get diamonds, you know, it's not like you're going to stop them or anything, so....
"Into The Wild" by LP
There is absolutely no song more powerful than this one. You'll want to hike mountains. You'll want to book a one-way ticket to a faraway place. You'll want to just go and be fearless, damnit!
So maybe you'll wind up not actually doing any of that stuff, but just talking about it with your BFFs is pretty therapeutic, right?
"Hard" by Rihanna
Come on, you didn't think RiRi wouldn't make a Galentine's debut? Y'all are buggin'.
Everything Rihanna touches turns badass, and this song is no different. I suggest this song be paired with a shot of tequila... or maybe even just nachos.
Honestly, just nachos is fine by me.
"Problem" by Ariana Grande feat. Iggy Azalea
You'll have one less problem after you play this song (see what I did there?), because what group of girls doesn't want to belt out Ariana Grande lyrics?
PSA: If your group of friends do NOT want to sing along to Ariana, feel free to head over to my place and sing along with my crew. All are welcome (except boys, obviously).
"Independent Women, Pt. 1" by Destiny's Child
The one. The only. Destiny's Child. Look, I know that this technically means Beyoncé has appeared twice on this list, but do you really need to question why?
The name of the song itself implies why you should be listening to it on Galentine's Day. Throw your hands up at me, ladies.
Get it, girls.