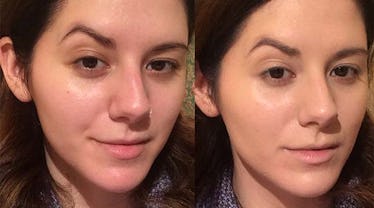 This New $12 Foundation Rivals A Cult-Favorite & Sensitive Skin Types Will Be Obsessed
Kim Carpluk
I am a foundation snob. Since foundation sits closest to my skin, I don't want to subject my breakout-prone pores to just anything. Luckily, you don't have to break the bank to get results: This Physicians Formula Healthy Foundation review proves that double-duty foundations don't have to cost a fortune. They can slay just as hard as your $50 fave.
Growing up, Physicians Formula was my jam. My skin has always been super sensitive, and many products would break me out just be looking at them. My allergies simply barred me from using most drug store products. Physicians Formula, however, was always a safe bet.
The brand was founded in 1937 by a leading allergist at the time, Dr. Frank Crandal, who created the line for his wife. His wife had sensitive skin as a side effect from Lupus and the brands on the market weren't cutting it. Eighty years later, Physicians Formula is still making all of their products hypoallergenic and free from harsh ingredients. If you have sensitive skin, then you beat your face freely without fear of pesky breakouts.
My breakouts generally only rear their ugly heads during my period or if I use a product I'm allergic to, but I do have intense surface redness and rosacea near my temples. I generally opt for a natural finish, medium coverage foundation that I can build where I need more coverage, like my cheeks temples and nose.
I began my foundation routine by cleansing, moisturizing, and priming my skin. My skin is super oily on my forehead, nose, and chin, so I utilized a matte blurring primer that would balance out the hydrating, satin-finish foundation in those areas.
Wielding a synthetic buffing brush, I worked the Physicians Formula Healthy Foundation into my skin using little circular buffing motions, starting at the center of my face working outward. In the areas where I needed a little more coverage, I pressed and rolled the brush along my skin to deposit more product.
I loved that the foundation evened out my tone, but still looked like skin. It mimicked my skin's natural texture, but got rid of all my surface redness. It truly is medium coverage though, so if your concern is active breakouts, acne scarring, or dark spots, you might need to pair it with a full coverage concealer. The two freckles I have under my eye were still totally visible, which I love, but that also means any deeper discoloration will still show through.
This foundation also boasts Chinese Wu-Zhu-Yu extract, hyaluronic acid, and vitamins A, C and E, which brighten, hydrate, and repair your skin as you wear it. It's basically skincare and foundation all in one, plus SPF 20. Word to the wise: though the foundation is technically fragrance-free, you can certainly smell the sunscreen.
Giorgio Armani Luminous Silk Foundation, $64, Giorgio Armani Beauty
The foundation reminded me a lot of the Giorgio Armani Luminous Silk Foundation. Both have a lot of luminosity and look like a second skin rather than makeup. They feel similar in texture and move across the skin similarly as well. The Luminous Silk helps to blur pores more and is definitely more long-wearing, but if you're looking for a similar effect overall, the Healthy Foundation has got your back.
Physicians Formula Healthy Foundation, $12, Walmart
The packaging definitely looks and feels super luxe. I thought the cap would pop right off to reveal a pump, just like most high-end foundations, so I was super shocked to find that it twisted off to remove a giant doe-foot applicator. I don't like to dot my foundation on my face because it gives me less control over my coverage and placement, so I ended up rolling it over the back of my hand.
I was surprised by how well the foundation matched my neutral toned skin. It did get one shade darker as it dried down onto my skin, so I just went a little bit heavier with my concealer and highlight. Since I'm super oily, I had to set the heck out of the foundation with a translucent setting powder. Personally, I love to use natural finish foundations so I can control how matte certain areas of my face get, so setting for the gods wasn't a concern for me. However, because they foundation was so dewy, it wore like a BB or CC cream.
After wearing the foundation for five+ hours, I noticed it started to wear off from my nose, chin, and orbital area, revealing a bit of my natural redness underneath. Though it didn't cling on to my skin as well as some of my other faves, I think it will definitely will slay for work or school.
The Healthy Foundation also passed my most important test. I'm a selfie kween, so I need a foundation that will look just as good (if not better) in photos and videos. In my opinion, this product definitely passed the test.
If you're bougie on a budget at the current moment, but you don't want to sacrifice your skin's health, the Physicians Formula Healthy Foundation awaits you. Get glam and treat your skin all in one fell swoop.