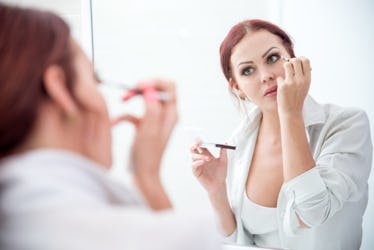 5 Gorgeous Hypoallergenic Eyeshadows For People With Sensitive Eyes
The right eyeshadow can make a big difference: it can give you a dewy sun-kissed look, or maybe an irresistibly dramatic aura; it can be soft and flirty, or vibrant and bold. But when shopping for colors for your lids, the best hypoallergenic eyeshadows are the way to go — especially if you're prone to experiencing irritation or have sensitive eyes.
The skin around the eyes is some of the most delicate on your body, so it's no shock that it can easily react to foreign products. When it comes to creating a shadow that is unlikely to cause an allergic reaction, it all comes down to — you guessed it — the ingredients. Harsh chemicals often found in drugstore beauty products can be a nightmare to someone who has sensitive eyes. Even if you don't have sensitive eyes, it's best to go the safe route and choose hypoallergenic makeup that doesn't run the risk of causing irritation. This means opting for products that rely on natural, gentle, and plant-based ingredients to create the look you're going for.
Below, take a look at a handful of shadow palettes that will provide you with irritation-free color. From soft, gentle nudes and pinks to dramatically bright hues, there's a hypoallergenic shadow for everyone in this carefully curated list.