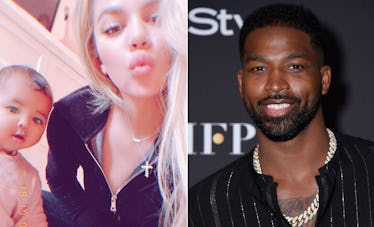 Tristan Thompson Spent Halloween With Khloé K & True, So The Family Photos Are Adorable
Instagram/KhloeKardashian; Michael Loccisano/Getty Images
Khloé Kardashian and Tristan Thompson's relationship has been a giant question mark ever since Thompson reportedly cheated on Kardashian just before she gave birth to True. But the couple seems to be on great terms now, considering they're now posting family photos with little True together. Wednesday, Oct. 31, marked True Thompson's first Halloween, and the photo of Khloé Kardashian, Tristan Thompson, and True on Halloween is sure to make Khloé and Tristan fans burst with joy.
Thompson, who recently moved back to Cleveland, Ohio, for basketball, posted two adorable photos of him and True, as well as one with Khloé, to his Instagram story on Halloween. The first photo shows Thompson holding True on his head with True dressed as a little pink flamingo. The second shows True in the same flamingo costume, this time sitting on her dad's lap while her parents pose with her. Thompson's captions for the posts said "Happy Halloween" and "Clearly I don't know where the camera lense [sic] is lmao."
These photos are a good sign that things between Kardashian and Thompson are positive at the moment. It's not clear if the photos were taken in Cleveland now that Khloé and True are there for a bit to be with Thompson, or if the photos were taken previously in Los Angeles before Thompson had to head back to Ohio for work. Either way, the photos are cute as hell.
Just look at that little nugget!
True Thompson is a damn star.
All of True Thompson's Halloween costumes were iconic, by the way.
It's good they're having fun and smiling together this week, given how rough this coming Sunday's episode of Keeping Up With The Kardashians is going to be. The Sunday, Nov. 4 episode will document the moments Khloé and the rest of the family learned of Thompson's reported infidelity.
The trailer for this episode is hella dramatic.
"It's the home stretch," Khloé says in the trailer. You then see Kim, Kendall, Kris, and Kylie get texts that prompt seriously concerned looks from them. It's likely that those were their reactions when they saw the news about Thompson reportedly cheating. "She's literally going to go into labor over this," Kim says at the end of the trailer.
Khloé Kardashian is bracing herself for having to relive the painful moments all over again.
One fan of the show tweeted, "I feel so bad for @khloekardashian had to go through what Tristan did while filming #KUWTK. If I'm not wrong, next episode will be insane. You're so strong to put that personal issue as part of the show knowing millions of ppl will watch it. I wouldn't be able to do it."
Kardashian responded to the fan's tweet confirming the episode will document her reaction to the cheating reports and the moment she went into labor just days later. "Sadly, it will," she said. "I signed up to show the for the good and the bad, right? The bad is very hard to relive but it's life."
Based on the photos they posted together with True on Halloween and the fact that Kardashian and True are currently in Cleveland with Thompson, the couple seems to be on the mend and in a good place. But maybe they shouldn't watch TV this Sunday...