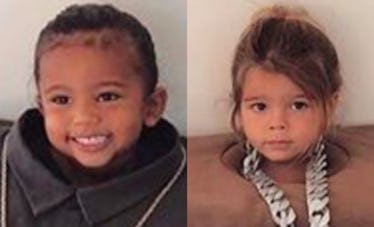 Saint West & Reign Disick's Holloween Costumes Were The Most Adorable Shoutout To Kanye
Kim Kardashian on Instagram
The Kardashians slayed Halloween this year. From Kylie and Stormi's butterfly and storm-cloud costumes to the five sisters wearing literal Victoria's Secret Angels runway looks, the family pulled out every single stop with their costumes. Kim and Kourtney Kardashian's sons, Saint West and Reign Disick, dressed up together, and the photos of Saint West and Reign Disick's "I Love It" Halloween costumes are just one more addition to the long list of this family's killer Halloween 2018 costumes.
Kim and Kourtney both posted videos of their sons, Saint and Reign, dressed as Kanye West and Lil Pump in the "I Love It" music video. You know, the one where they're wearing boxes made to look like clothes and basically look like Lego men? Yeah, that one! Saint West was dressed as his dad, naturally, and Reign was dressed as Lil Pump, and the two kiddos looked like they were having the time of their lives in their costumes.
All of the Kardashian family had a slew of Halloween costumes this year. Saint West and Reign Disick were Kanye West and Lil Pump, Kylie Jenner and Stormi Webster were butterflies and stormy weather (get it?), Kylie was also a Barbie doll and a Fanta bottle, Kourtney Kardashian was Ariana Grande, Khloé Kardashian and True Thompson were unicorns and tigers, and Kim, Kourtney, Kylie, Khloé, and Kendall did a group costume of Victoria's Secret Angels. The family slayed Halloween, as always.
The photos of Saint West and Reign Disick's Halloween costumes are some of the most adorable photos ever.
The video of Reign falling over gets me every time. Like I said, the Kardashian kids had amazing costumes this Halloween.
Stormi Webster was a butterfly.
And a lightning bolt to Kylie's storm cloud.
True Thompson was a unicorn, a panda, a sheep, a pig, a flamingo, and a tiger because Khloé couldn't pick just one. (Honestly, fair. These costumes are so cute.)
And Reign Disick also dressed as Jack Skellington.
All of the Kardashian/Jenner sisters dressed as Victoria's Secret Angels was next level.
Kendall Jenner hinted at the angelic costumes in an interview with Vogue. "One year we were all the 101 Dalmatians and my mom was Cruella DeVil," she said about her family's past Halloween costumes. "Another year, we were all the characters from Wizard of Oz. My mom was Dorothy." She added, "Me and my sisters are doing something amazing, but I can't tell you because that'll ruin everything." And now we know what that "something amazing" is.
They all posted their favorite shots of the looks, which were literal Victoria's Secret Angel wings sent to them from Victoria's Secret.
"Opened the show," Kourtney's caption said. "Thank you @victoriassecret for making me the first ever 5'1" angel."
Kim fangirled out a little more saying, "Thank you @VictoriasSecret for sending us actual runway looks and real wings to borrow for the night!!! OMG a dream come true! Got to be a Victoria Secret Angel for the night! And Kendall got good practice lol."
And Kendall, the actual Victoria's Secret model of the family, said, "throwback VS vibe with my sisters 👼🏻 thank you for letting us steal your wings for the night @victoriassecret." The Kardashians did it again. I love it.