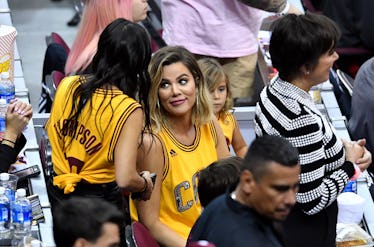 Khloé K Went To Tristan Thompson's Basketball Game, So They Must Be Working Things Out
Jason Miller/Getty Images Sport/Getty Images
Khloé Kardashian is officially back in Ohio. According to a new report, she flew back to Cleveland with True so they could be with Tristan Thompson. It's not clear if she has officially moved back to Cleveland like she had done while pregnant with True, but this is a good sign for the couple. An even better sign is the photo of Khloé Kardashian at Tristan Thompson's game in Cleveland. The new mom was seen/photographed by fans at Thompson's basketball game on Tuesday, Oct. 30, so it looks like their relationship is in a good place at the moment. Elite Daily reached out to Kardashian and Thompson's teams about the current status of their relationship and her move to Cleveland, but did not hear back by the time of publication.
A source told Entertainment Tonight that Kardashian "flew back to Cleveland to be with Tristan [Thompson] and even supported him at his basketball game" this week. She just recently returned from a trip to Bali with Kim Kardashian and their kids that they went on sans Thompson, but that seems like it was more of a work conflict on his end than anything else. When Kardashian and True got back to California, they were greeted with huge "welcome home" balloons in their living room — a gift from Thompson.
Now, Kardashian and True are back in Cleveland, but it doesn't seem to be a permanent move just yet. "Khloé and Tristan are still working on things," the source said, "but know whatever they decide to do moving forward, it will be whatever is best for their daughter, True."
They added that although things are reportedly going well with their relationship at the moment, her time in Cleveland could be cut short. "Khloé isn't certain how long she will be in Cleveland and may fly back for her mom, Kris [Jenner's], birthday next week, but isn't sure," the source said. "A lot is dependent on how things go with her and Tristan." Elite Daily reached out to Kardashian's team for comment on the report's claims, but did not hear back by the time of publication.
Kardashian is back to going to Thompson's basketball games, so that's a positive sign the couple could be in a good place.
An Instagram user posted a shot to his Instagram on Oct. 30, as well as a video of the game that shows Thompson playing.
According to Entertainment Tonight, Kardashian has faith that Thompson won't cheat again, saying that she's so happy with him as a father that she doesn't want to let go of the idea of having a family with him. A source previously told the outlet, "While those closest to her have discussed the chance Tristan is cheating again, Khloé just laughs it off. [She] says, 'Those people are crazy.'" They went on to add that her family is still fearful he'll devastate her again the way he did when he cheated on her just before she gave birth to True.
"Khloé comes from a big family and she is not going to ruin that fantasy of building a life with the man she loves," they said. "It's not even a conversation — she won't talk about it with anyone. Her sisters and friends, of course, have brought it up because they truly worry history will repeat itself and she could end up devastated like she did with [ex-husband] Lamar [Odom], but for now, she is standing by her man." They added, "Everyone who tries to bring it up with her, the response is always that she loves him and, 'We are all good.'"
The trailer for the new episode of Keeping Up With The Kardashians this Sunday, Nov. 4, confirms fans will see the immediate aftermath of Thompson's cheating.
"She's literally going to go into labor over this," Kim Kardashian says in the video.
Kardashian told fans in a tweet that while reliving that week is going to be hard, that's what she signed up for by putting her life on reality TV. "I signed up to show the for the good and the bad, right?" she said, "The bad is very hard to relive but it's life." Hopefully, Kardashian and Thompson really have overcome this particular "bad" so she doesn't have to go through an awful ordeal like that again.