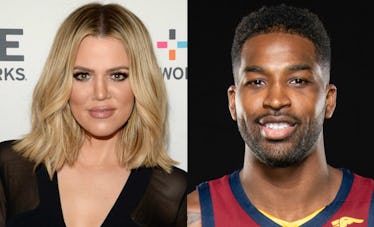 Tristan Thompson Had The Sweetest Surprise Waiting For Khloé K When She Returned From Bali
Chris Weeks/Getty Images for A+E Networks/Jason Miller/Getty Images
Khloé Kardashian and Kim Kardashian just got back from a vacation with their kids in Bali this Saturday, Oct. 27, and Khloé Kardashian and True Thompson returned home to a sweet surprise from Tristan Thompson. The couple, who currently are living separately (Thompson is in Cleveland for basketball while Kardashian and True are in Los Angeles), have had a rocky six months since True was born, but are actively trying to make things work. The photo of Tristan Thompson's homecoming surprise for Khloé Kardashian was a sweet way for Thompson to show his love for Khloé and True.
When Kardashian arrived back home in Calabasas this weekend, she was welcomed by a huge set of silver balloons reading "Welcome Home" floating over the couch in her living room. She posted a photo of the giant balloons to her Instagram story with the caption, "Thank you baby." It's a simple gesture, but a sweet one for sure. Especially considering that Kardashian has been on a ~journey~ to bring as much joy into her life as possible, Thompson adding a sweet surprise to the mix was a nice thing to come home to, no doubt.
Kardashian shared a photo of Thompson's shiny surprise for her to her Instagram story on Sunday, Oct. 28.
Kardashian has been super open on social media about her daily mission to evolve and grow. Her fans know she's been posting inspirational quotes to her Instagram stories just about every day for months now, and she's also tweeted a lot about this ~journey~ she's been on.
On Oct. 27, the day she got back from Bali and came home to her gift from Thompson, she posted a series of tweets about how she's changed over the last five years.
Koko is gettin' deep.
"Im thankful for every moment I have! I didn't used to be present enough to truly reflect on the beauty of it all!" she said at the start of this series of tweets. "The highs, lows. I was simply going through the motions of life! Im thankful that I'm in a place where I truly appreciate every experience. Good, bad or indifferent. Be patient, tough and have faith."
In another tweet, Kardashian said, "Be patient, tough and have faith. Someday ur pain/struggles will be useful to you. Don't be afraid to fall apart or fail. Cuz, 1day, the situation will open an opportunity for you to grow and rebuild yourself into the brilliant person you are capable of being." She continued, "I hated the way I used to react to people or how I would speak to some. I'm still and forever a work in progress. That excites me!! Never am I working towards perfection because what is perfection anyways? Simply aiming to be better, With every stage of my life."
One of the last tweets in the thread read, "I simply wanted to remind us all that our past does not define us. Knowledge is power! Self awareness is beautiful! We all should be growing /progressing every single day! I am not the woman I was 5 months ago, 5 years ago etc... thank God for that!"
As for what this newly evolved/ever-evolving Koko means for her relationship with Tristan Thompson is still yet to be seen. Those balloons were cute, though!