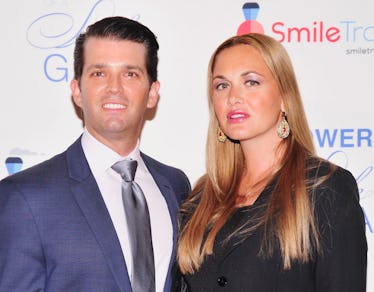 This Might Have Been A Big Clue That Donald Jr. & Vanessa Trump Were Splitting
Stephen Lovekin/Getty Images Entertainment/Getty Images
In case you haven't been on the internet at all today, Page Six reported on March 15 that Donald Trump Jr. and Vanessa Trump are officially calling it quits. According to the publication, Vanessa is filing for divorce against Don. Jr amid marital issues. Shocked? Well this photo of Donald Jr. without Vanessa Trump tells a far bigger story than meets the eye.
For those not really paying attention to President Donald Trump's 2018 State of the Union Address on Jan. 30, here's what went down. Most of the Trump family was in attendance for the address. Except one. As Ivanka Trump, Jared Kushner, Tiffany Trump, Eric Trump, Eric's wife Lara Trump, and Donald Trump Jr. sat in the audience in support of Donald Trump Sr., Vanessa Trump was nowhere to be seen for the entire night. As a quieter figure in the family, this didn't seem like a huge deal at first. However, with news of the divorce, I have to ask whether her absence has something to do with the marital problems the couple has allegedly had been facing.
I don't know what y'all think, but skipping your father-in-law's State of the Union Address? There's got to be a big reason behind that.
Leading up to the State of the Union Address, first daughter Ivanka Trump and husband Jared Kushner held a family dinner to commemorate their special evening. Attendees included Ivanka, Kushner, Tiffany, Eric, and Eric's wife Lara. However, neither Vanessa nor Donald Trump Jr. were seen in the video. In fact, the video shows two empty chairs at the dinner table.
This all went down on Jan. 30, but we didn't start hearing rumors about possible marital issues between Vanessa and Trump Jr. until March 14. Sources reportedly told Page Six that the couple had been experiencing a variety of obstacles, including Trump Jr.'s traveling schedule and Vanessa's discomfort in the spotlight. The sources also reportedly stated that the couple wanted to try to work through their problems while Donald Trump Sr. was in the White House.
"The problems have been there for a long time, the couple had hoped to stay together during the president's time in office, but it is getting harder to resolve their issues," the sources reportedly said. "He's never there."
At first it was just all talk, but on March 15 it was announced that the couple was indeed splitting up. The Trump Organization released a statement to Elite Daily confirming the couple's separation. It reads,
After 12 years of marriage, we have decided to go our separate ways. We will always have tremendous respect for each other and our families. We have five beautiful children together and they remain our top priority. We ask for your privacy during this time.
Page Six reported that Vanessa Trump filed for an uncontested divorce against Donald Trump Jr, meaning that she does not anticipate a fight over assets or custody.
It's no secret that Vanessa Trump is perhaps the most low-key member of the Trump family. Of the lot, she's far less active on social media and rarely shares her political beliefs. So, it must be a difficult position to be in when you're literally a part of one of the most controversial and talked about families in existence at the moment. So much for laying low.
Plus, on Feb. 12 Vanessa Trump experienced what no individual should experience. The former model was rushed to the hospital after receiving a threatening letter that contained a mysterious white powder. Sources reportedly told Page Six that Vanessa Trump has been worried for her children's safety since the incident.
"Vanessa is by nature is a very low-key person, and she is uncomfortable with the attention her family is getting now the Trumps are on the world stage," the sources reportedly said. "She is also worried for her kids, particularly after she received the threatening letter containing the white powder."
I mean, who can blame her?
Following the scare, Vanessa Trump shared a (rare) tweet on March 1 thanking people for their support and thoughts.
There could be a number of reasons to what caused the split, but for now I'll be here overanalyzing every segment of social media.