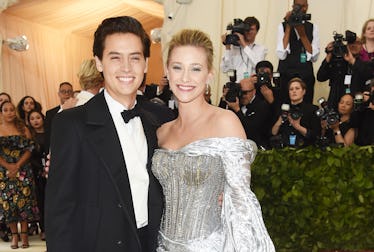 Cole Sprouse Just Posted A Photo Nearly Kissing Lili Reinhart, So Prepare To Swoon
Jamie McCarthy/Getty Images Entertainment/Getty Images
Nothing gets me going like good celebrity romance speculation. Such has been the case with actors Cole Sprouse and Lili Reinhart ever since winter 2017. Neither celebrity has actually confirmed if they're dating. But, they've left it open for plenty of speculation thanks to pointed social media posts and the rare joint red-carpet appearance. In fact, Sprouse's latest Instagram photo is potentially the closest fans have come to getting an answer on where these two stand, and honestly? It's pretty steamy. This photo of Cole Sprouse and Lili Reinhart nearly kissing has Riverdale fans' hearts fluttering. Even though I don't really watch the show (oops), I'm #following this particular plotline, anyway.
In the wee morning hours of Monday, Sept. 10, Sprouse posted an intimate, sexy, and sweet photo of himself and Reinhart. The picture is a blurry image of the two just about to kiss. Sprouse's tongue is even out and Reinhart is nothing but smiles. He captioned the photo, "It's pretty, pretty late."
Sprouse posted the picture around 4 a.m. EST, so he could have been referencing the time of day. Or, he could be referencing how late he is to finally confirm his relationship with Reinhart after all of this time. Obviously, my vote is for number two.
Swoon. This is definitely NON-platonic behavior.
Like, hello?
Obviously, fans are losing it in the comment section. They're writing things like, "Ommmggg! I shipppppp," "That's so sweet I'm dying," and "I love y'all so much," among the usual feedback like "Awww" and "YASSS!"
However, Reinhart has been extremely vocal in the past about how she is doing her best to maintain some sense of privacy while working in the spotlight as a young actor. For these reasons, it's been particularly difficult for reporters and fans to pry into her personal life. During an interview with Harper's Bazaar in July 2018, she explained, "I don't act to be famous. I'm just a performer... I'm not OK talking about my relationship. I'm not going to tell you my love story. That's just not appropriate right now."
She also spoke about bracing herself for random speculation about her personal life, ranging in topics from her sexuality to her body type. "Am I pregnant? Am I dating someone? Am I gay? Am I gaining weight? Am I homophobic?" she said. "People will always have something to say. I've accepted that. It doesn't mean it's not frustrating when people say those things. It's not like it just rolls off my back."
Luckily, she seems to have found a steadfast companion to lean on in Sprouse. In February 2018, she spoke with Ocean Drive about the calming effect Sprouse tends to have on those around him. She lovingly explained,
He really brings us down to earth if we're feeling like something we've said is being taken out of context. He's always the one to be like, 'Just ignore it. It will blow over.' It's a nice, calming energy he has because you know that he's been through it.
Right? Love to love.
Maybe this photo will be another moment in history that comes and goes for these two. But, hopefully, it proves to be the starting point of their public romance.
Either way, I'm still #following.