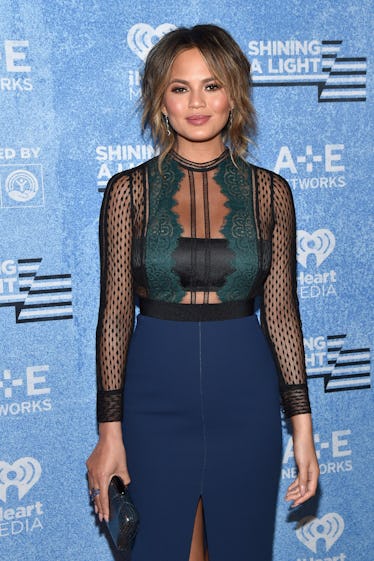 Chrissy Teigen Just Proved She's The Most Relatable Mom With Her Latest Instagram Pic
Mike Windle/Getty Images Entertainment/Getty Images
May we all one day experience the grace, beauty, and confidence Chrissy Teigen has two weeks after giving birth. The new mother of two has always kept is so real with her fans despite the obvious difference between her and us common folk (mainly the whole "being a supermodel" thing, plus her award-winning husband and, ya know, all that ca$h money). Teigen hasn't shied away from sharing her pregnancy changes with the public which includes new photos of her post-baby bod. A photo of Chrissy Teigen's stretch marks is circulating the social media arena after the model posted a short video of her bare hips on her Instagram story. Sure, she included a crying emoji, but women everywhere are rejoicing with a fist pump emoji. Because guess what — stretch marks happen! They're normal! Hooray!
As someone who openly admits I have not yet had a baby, I feel pretty confident saying I know at least two things about pregnancy: 1.) At the end, you get a beautiful human miracle. And 2.) Your body changes. Like, a lot. When you're literally creating life inside of your abdomen it makes sense for your body to morph in new ways. This might sometimes include stretch marks on your skin, and yes, they can happen to anyone. Even Chrissy Teigen.
On May 17th, Teigen and John Legend welcomed their new son, Miles, into the world. Three days later, Legend attended the Billboard Music Awards and Teigen hilariously trolled him from home with Miles in her lap. By May 28th, they were out on their first date together since Miles' arrival, and a day later Teigen shared a short video of her stretch marks. Ah yes, the timeline of celebrity parenthood. In her stretch mark video, Teigen can be heard saying, "Nooo, I thought I did such a good job with my creams. My hips!" Beneath the crying emoji fans can see a small purpley-red mark on her skin. It's not a big deal, but I appreciate her openness nonetheless.
This video isn't the first time Teigen posted #realpictures post pregnancy. either. Earlier in the month, she shared an image wearing mesh underwear commonly given to women after birth. From what I can tell, they are stretchy, breathable, disposable undies designed to make the post-birth healing process more comfortable for the mother. In the photo, Teigen references comedian Ali Wong and a bit she does likening the mesh underwear to an Asian pear.
Here, see what I/she means.
Along with sharing her body changes, Teigen has been open about the mental changes she's experienced, too. During her first pregnancy with baby Luna, Teigen revealed she struggled with severe postpartum depression. In a special feature in Glamour magazine, Teigen spoke openly about the physical and mental symptoms she suffered in the months after Luna's birth and how postpartum depression initially never dawned on her as a possibility. She wrote:
I also just didn't think it could happen to me. I have a great life. I have all the help I could need: John, my mother (who lives with us), a nanny. But postpartum does not discriminate. I couldn't control it. And that's part of the reason it took me so long to speak up: I felt selfish, icky, and weird saying aloud that I'm struggling. Sometimes I still do.
While Teigen is 99.9 percent jokes, sarcasm, and epic cooking videos, she also clearly displays an incredible amount of heart. Whether you agree with her online persona or not, you have to give it to her. Sharing things like her struggles with motherhood, stretch marks, battle with postpartum depression, and all around being a normal human being normalizes these normal things for the rest of us — and for that, I say thank you.
Check out the entire Gen Why series and other videos on Facebook and the Bustle app across Apple TV, Roku, and Amazon Fire TV.