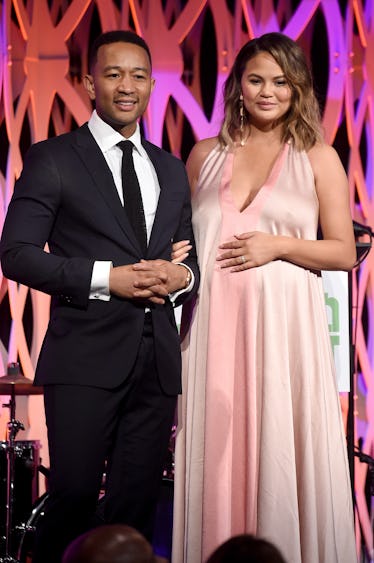 Chrissy Teigen & John Legend's First Date After Baby Miles Was Born Looked So, So Sweet
Jamie McCarthy/Getty Images Entertainment/Getty Images
Chrissy Teigen and John Legend may have recently welcomed a baby boy, but that doesn't mean romance is off the table. In fact, romance is still very much on for this couple, as Legend proved with a new Instagram snap of their first date since welcoming baby Miles. And trust me, Chrissy Teigen and John Legend's first date looked so, so sweet!
Legend shared a photo of himself and his beautiful wife at what looked like a restaurant. Teigen, of course, looked amazingly elegant with her hair flowing and a pair of simple gold earrings. Legend looked fantastic as well in a nice shirt and jacket.
The pair were all smiles, with no hint of the apparent exhaustion they're both feeling since welcoming their second child, Miles Theodore, nearly two weeks ago.
In a recent interview with ET, Legend explained that his family is still adjusting to life with a brand new baby at home:
I am not sleeping, but it's OK. I'm starting to remember how it was the first time around with Luna. It's all coming back to me, and Chrissy too. This is that period in his life and our lives where you get less sleep and work a little harder. I'm trying not to work too much outside of the house because we got a lot to do at home.
Aw, sounds like they have everything completely under control. And they look like it, too, if Legend's photo is any indication.
Here's a look at Legend's Instagram post:
In addition to little Miles, Legend and Teigen are also the proud parents of Luna Simone, aged 2.
Apparently, Luna sees her new brother as competition. At least that's what Legend told ET:
I think she's just becoming aware that he's the competition. We'll see how that plays out, but I think it might be good because it's making her, like, she's doing more to ingratiate herself to us, which means it might be a good thing for her to have a little competition.
Baby Miles was born on Wednesday, May 16. That evening, Teigen announced the birth to her fans on her Twitter account.
"Somebody's herrrrrrre!" Tiegen tweeted, along with a baby bottle and high smiley emojis.
Teigen is apparently coping pretty well postpartum, as she mentioned on Twitter just days after giving birth:
I can confirm postpartum life is 90% better when you don't rip to your butthole. Baby boy: 1 point. Luna: 0.
Hey, at least she's being real about it!
On Sunday, May 20, Teigen shared a photo of baby Miles and, let me tell you, he's just adorable. Have a look:
Teigen captioned the photo with:
Hello, world! This is Miles Theodore Stephens – We are drowning in his little peeps and nuzzles. Our household feels overwhelmed with love. Thank you for all your well wishes!
That same day, Legend appeared at the 2018 Billboard Music Awards. While walking the red carpet and talking to E! News, the singer gushed about his son and explained all the newborn details fans want to hear. Here's what he had to say:
We just had a baby boy, Miles. Chrissy is at home watching. Hi Chrissy. We named our first daughter Luna Simone Stephens and every name name we give to our kids will have a little musical history to it. So, Miles is the same name as the great Miles Davis and Chrissy really liked the name Theodore, so we put it all together and got the name Miles Theodore Stephens. When he came out and we hung out with him for a little while, we were like, 'He looks like a Miles.'
Clearly, Teigen and Legend are excited about having a new baby around. And they should be! He's too cute for words!