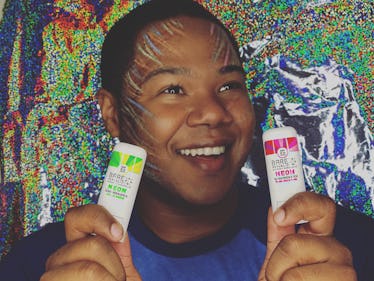 Neon-Colored Sunscreen Sticks Are The Most Genius Festival Accessory Of All Time
Kim Carpluk
Whether your summer plans include music festivals, beach vacays, or just occasionally stepping out of your dusty, dark apartment to spend five minutes in the sunshine like an average human, SPF is a must. If you frequently forget to slather on your skin protection, then this mineral sunscreen review will have you reapplying your SPF more frequently than your lipgloss.
The new Bare Republic Mineral SPF 50 Neon Sunscreen Sticks ($9; gobareoutside) come in six Lisa Frank-worthy neon hues, so you can embrace your inner child and finger paint the heck out of your face. There's no way around it: SPF is a necessity. You might love basking in the sun's delicious warm rays, but trust me, the feeling isn't really mutual. When the UV radiation hits your skin, your cells go into protection mode. Your skin produces more melanin to shield itself from the intense rays, which can damage or straight up kill your skin cells. Basically, your body is trying to create armor to shelter your body's biggest organ. Though your temporary tan might look cute to you, it's a warning sign that harm has being done.
Over time, the stress brought on by UV exposure may cause fine lines, wrinkles, dark spots, and most importantly, skin cancer to develop. These aren't just theories, my friend. The sun's adverse effects are tangible and visible. Have you seen the truck driver with sun damage on only one side of his face after years of sitting in the driver's seat? The proof is in the pudding.
If you lament applying SPF because it's greasy and utilitarian, you're not alone. Enter these natural swizzle sticks, which make slathering on protection as much fun as finger painting.
Bare Republic Mineral SPF 50 Neon Suncreen Stick in Electric Blue, $9, Bare Republic
The portable SPF 50 sticks comes in Punk-Rock Pink, Atomic Orange, Lightning Yellow, Goblin Green, Electric Blue, and Wicked Purple, and each hue is scented with a fragrance that correlates with the color. Lightning Yellow smells like bananas. Punk-Rock Pink smells like Raspberries. Technically, Electric Blue smells like Blueberries, but to me, it smells like straight up Jolly Ranchers.
Each stick is vegan, cruelty-free, and TSA size-approved. The tiny, light-weight packaging and solid formula makes transportation easy peasy. Toss it your beach bag without a second thought. There will be no messy leaks or explosions in your cute straw tote today!
The sticks are also gluten-free and non-GMO, so sensitive skin havers rejoice! The active ingredient, zinc oxide, blocks out both UVA and UVB rays by sitting on top of the skin. It creates a physical barrier, so there's no need to wait in the shade before the product begins working. As an extra added bonus, the zinc oxide in the Bare Republic Stick is also non-nano, which means your skin is less likely to absorb (and break our from) the tiny mineral molecules. The SPF 50 is water-resistant and active for up to 80 minutes, so don't forget to reapply.
You can use the product to create a literal masterpiece on your face, or simple scribble all over your body like Jackson Pollock. The choice is truly yours.
Just don't forget to rub it in all over, or you'll end up with some really awkward facial tan lines.
Since the sunscreen is physical and non-nano, you might see a light colorful cast left behind, but it's pretty minor. Simply start wherever you've applied the most product and work your colorful creation into your skin.
So skip the eyeshadow and rely on your SPF to liven up your summer glam. I promise your festival look will be prismatic AF.