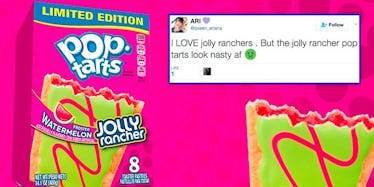 New Jolly Rancher Pop-Tarts Are Here And Twitter Thinks They're Gross AF
Kellogg's/Twitter
They say you can't eat candy for breakfast, but Kellogg's is here to bust the myth with its new Jolly Rancher Pop-Tarts.
The sugary, colorful treats invite you to add a little something sweet to accompany your egg-white dish once you finally get out of bed.
Naturally, the limited-edition breakfast treats come in the most sought-after Jolly Rancher flavors: Cherry (the best, of course), Green Apple and Watermelon.
You can welcome the summer season with a Watermelon Pop-Tart each morning.
A Green Apple Pop-Tart a day keeps the doctor away (but probably not).
Add the cherry on top of your breakfast with this fruity Pop-Tart.
They sure look inviting, though I'm not sure I'm brave enough to check advertised nutrition facts on these sugary babes.
I guess if you're really on edge about having these first thing in the morning (understandably so), they can always be a good dessert option.
However, no matter the time of day when you indulge in the snacks, there seems to be a common theme. Much like the highly anticipated Unicorn Frappe, the Jolly Rancher Pop-Tarts appear to look better than they taste, according to people's reactions on social media.
Some love Jolly Ranchers... but definitely not for breakfast.
Others don't even want them to hit the shelves.
"We don't want them."
People think the whole concept is "friggin ridiculous."
"Who asked for this?"
Don't look at me, @LauRenxExCarter.
In the event you need a belated Mother's Day gift, stick to flowers -- not this treat.
"Make her puke this year with new Jolly Rancher Pop Tarts!"
Well, @junkbanter certainly isn't holding back.
People are really upset about getting this news on a Monday.
OK, OK, so maybe they're not exactly what some customers might have hoped for, but you have to give Kellogg's props for taking all of its customers into consideration.
There is literally something for everyone, from Jolly Rancher Pop-Tarts to Confetti Cupcake Pop-Tarts and everything in between.
Citations: OMG, Jolly Rancher Pop-Tarts Now Exist (Cosmopolitan)