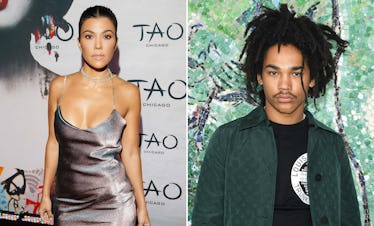 Here's How Kourtney Kardashian Reportedly Feels About Her Future With Luka Sabbat
The year of Kourtney Kardashian is still in full swing, you guys. Despite reports claiming she recently ended her relationship with model Younes Bendjima, Kourtney Kardashian is reportedly already back in the dating game. This time, she's hanging out with a new, even younger gentleman. 20-year-old actor Luka Sabbat has been spotted running in Kardashian's social circle and the two have recently been photographed together at various events. In fact, this new Kourtney Kardashian and Luka Sabbat relationship update implies things could be getting serious.
To bring you up to speed, Kardashian and longterm boyfriend Bendjima reportedly called it quits in early August 2018. Fans were initially sad for their main girl Kourt considering how nice it was to see her happy and in love after nearly a decade of her tumultuous relationship with Scott Disick. However, Kardashian seemed to bounce back with no problem. Elite Daily previously reached out to both Bendjima and Kardashian's team for comment on their relationship status, too, but did not hear back by the time of publication.
Nearly a month after the breakup rumor, Kardashian and Sabbat (known for his role as Luca Hall on the series Grown-ish) were spotted having dinner at the Los Angeles restaurant The Nice Guy on Friday, Sept. 14. People reports Kardashian attended a WME pre-Emmys party the same evening, though it is unclear if Sabbat was there for that, too. Just one night later, both celebrities were spotted at the opening of the TAO Chicago nightclub on Saturday, Sept. 15.
Now, sources are coming out of the woodwork weighing in on Kardashian's feelings and status with Sabbat. One source told People Kardashian is "head over heels" for Sabbat. Another source who spoke with E! News said Kardashian and Sabbat "have been friends for a while now, but have most recently been hanging out together more since Kourtney's split with Younes." In fact, Sabbat was lucky enough to get the invite to two exclusive Kardashian parties including Kylie Jenner's 21st birthday bash and a family Labor Day BBQ. According to one of E's sources, Kendall Jenner was the one who introduced her big sis to Sabbat. Elite Daily reached out to both Kardashian and Sabbat's team for comment on their relationship status but did not hear back by the time of publication.
"They always had chemistry, but Kourtney was in a serious relationship and her and Luka always kept things platonic. Now that Kourtney is single, she has been enjoying being able to do whatever she wants," the source continued, adding,
Kourtney isn't looking for anything serious right now and is just enjoying her fun. Her and Luka laugh a lot and she's enjoying her time with him. It's easy for her since they have had a prior friendship for the past year now.
Despite Kardashian playing it cool, another insider claims she is super attracted to Sabbat. "They started off as friends and it seems like its turning into more. She is very attracted to him and wants to keep seeing him," the insider elaborated. "She's known him for a while and is very comfortable with him. She's always thought he was very easy to talk to and fun to hang out with."
But, as per usual with Kourtney, "it's casual for now."
Obviously, nothing is official until she puts it on Instagram. Based on her history with Bendjima, we could be months (or even years) away from getting the facts. Sigh.