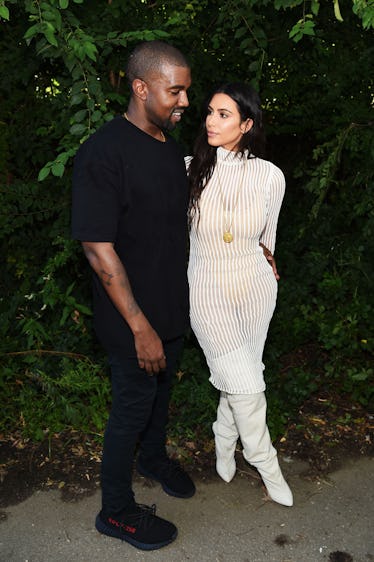 Here's How Kim & Kanye Are Really Doing After Their Heated Fight Over His Slavery Comments
Jamie McCarthy/Getty Images Entertainment/Getty Images
Kim Kardashian and Kanye West have been married for four years now. After three kids, four years, lots of music, and drama because of the music later, how is the couple doing? Well, this Kim Kardashian and Kanye West relationship update should make fans of the couple very happy. According to Us Weekly, Kimye is happier than ever. Elite Daily reached out to Kardashian and West's teams for comment on this report, but did not hear back by the time of publication.
A source told Us Weekly that Kardashian and West are in a "really great place" following the release of Ye and have reportedly worked through all of the issues raised when West went on TMZ and said slavery seemed like "a choice" because it lasted 400 years. (Bruh.) The source said,
His album is getting good reviews. He addressed a lot of issues and topics. Especially on his mental health, so it's almost a bit of a relief that it's all out there now. He's done a good job of clearing the air.
Basically, releasing Ye also meant lifting the weight of a lot of the drama in their marriage off their chests. They fought, they worked through things, West made an album about it, they came out on top on the other side of it all, so it seems. The source continued, "Once he gets into the groove, he really focuses and gets back to himself. He changed his album multiple times before finishing it. Music is a good form of decompression and de-stress for him."
Kardashian's CFDA Fashion Awards interview confirms the source's claim that West redid his album before releasing the finished product. In fact, West had an entirely different album planned before he threw it all away a couple weeks ago and started Ye. Kardashian revealed in a red carpet interview with Entertainment Tonight on Monday, June 6, that she was in the room while all of the old, unreleased album was being created. She left for a few days, came back, and her husband had created an entirely new album.
Kardashian said,
I was in the room for making all of the songs and hearing things and it's a really fascinating process, especially since he scrapped his whole album and redid it in the last two weeks and just came up with all new songs. I left to go home for, like, two days and then I come back and it was a whole new album. It's fascinating to see the process.
You mean to tell me... that all of Ye... was written two weeks ago...
That's seriously impressive, when you think about it. During its debut weekend, every single song from Ye dominated the top seven trending spots on Spotify and Apple Music. An album that was written two weeks ago did that. West's fans are forever loyal, no matter what this guy says, I guess.
West tweeted about the success of Ye on Twitter, saying it brought him to tears.
He posted a screenshot of one of the articles covering Ye's streaming services success and said, "I feel so blessed. For everyone that didn't turn they back. I'm in tears right now. I love all of you."
Kardashian also revealed that her reaction to West's comments about slavery that West raps about in "Wouldn't Leave" is actually what happened. In the song, West raps,
They say, 'Build your own'—I said, 'How, Sway?' / I said, 'Slavery a choice'—they said, 'How, 'Ye?' / Just imagine if they caught me on a wild day / Now I'm on fifty blogs gettin' fifty calls / My wife callin', screamin', say, 'We 'bout to lose it all!' / Had to calm her down 'cause she couldn't breathe / Told her she could leave me now, but she wouldn't leave.
Kardashian said, "Did I talk about it? Did I scream about it? Did I cry about it? Did I fight about it? Yeah." She continued,
That's not stuff we put on social media — I'm not going to start tweeting what my thoughts are, but we have those moments and that was the one song that he didn't really play for me until the last minute, so I heard that last minute and it meant a lot to me.
She capped it all off by saying, "I really like that song. But yeah, we have different views sometimes, but that's my husband, you know?" Kimye can work through anything, I guess!