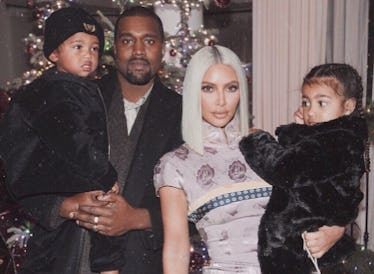 This Is What The Kardashian Kids Look Like Now, & They're Older Than You Realize
Kim Kardashian and Kanye West's third child, a daughter, was born Monday, Jan. 15 around 1 a.m., and she's been born into a family filled with cousins she'll likely be close with for the rest of her life. Now that there are officially more Kardashian grandchildren than there are Kardashian children (Kris Jenner has six kids and seven grandchildren, with one more confirmed grandchild on the way), the future of the Kardashian empire is pretty much set in stone. So let's talk about these kiddos because what the Kardashian kids look like now is so different compared to what they looked like even just a year ago.
There are seven grandkids total. In age order, they go: Mason Disick, Penelope Disick, North West, Reign Disick, Saint West, Dream Kardashian, and Baby West number three, whose name hasn't been revealed yet. With Khloé Kardashian's baby on the way and Kylie Jenner reportedly being pregnant with her first child, the Kardashian/Jenner family is going to have their hands full every holiday season when they all get together. So, now that there's another Kardashian baby in the world, let's take a look at what Baby West's siblings and cousins look like (huge thank you to the Kardashian Christmas card for making this post possible):
Mason Disick, 8 years old
First of all, it's wild to think that Mason Disick is already 8 years old. Nearly a decade with the first Kardashian baby?! I am literally so old, guys. We all remember watching Mason Disick grow up on Keeping Up With The Kardashians, and for a while, he was the only kid on the show. So, to see how grown up he looks now standing next to Scott Disick in photos, it's a wild sight to see.
Penelope Disick, 5 years old
Penelope Disick is so stinkin' cute. Kourtney Kardashian and Scott Disick's only daughter just turned 5 this past July, and every picture Kardashian posts of her is precious. As the above video shows, this girl is full of personality and her being best friends with North West is just about the greatest thing ever. (Never forget that photo of them in tutus together.)
Reign Disick, 3 years old
Ugh. How cute is Reign? My heart explodes every time Kourtney Kardashian posts a picture of Reign with his hair in a bun (which is often). Although we don't see him on Keeping Up With The Kardashians as much as we've seen Mason and Penelope in the past, this little 3-year-old cutie is growing up super fast.
North West, 4 years old
Oh, North West. Probably the most documented out of all of the Kardashian kids, North West is one of the internet's favorite kids. Kim Kardashian recently posted the funniest photos of North on Twitter showing her hide-and-seek skills, and Twitter was loving it. They actually found a way to troll Kylie Jenner through that photo because Twitter is filled with endless talent. To sum this up: North West is a ball of sunshine just like the rest of her cousins and baby brother.
Saint West, 2 years old
It's hard to believe Saint West is already 2 years old, but he is! Kim and Kanye's only son has one of the cheesiest smiles you'll ever see, and photos of him and North West together are just everything. We are literally cannot wait to see the first photo of North, Saint, and Baby West all together. Saint was recently hospitalized for pneumonia, but according to Kim Kardashian, Saint powered through and is doing much better now.
Dream Kardashian, 1 year old
Rob Kardashian and Blac Chyna's daughter, Dream Kardashian, recently celebrated her very first birthday back in November. Although Rob Kardashian was nowhere to be found in the Kardashian Christmas card, Dream made plenty of absolutely adorable appearances. In one photo where Dream is the star of the show, she's held up by her grandma Kris Jenner and aunt Khloé Kardashian while great grandma Mary Jo looks on in the background.
These Kardashian kids are growing up right before our eyes, people! Now that Kim Kardashian and Kanye West's third child has been born and Khloé Kardashian has confirmed her pregnancy with boyfriend Tristan Thompson, the only unsolved mystery we have is whether or not Kylie Jenner is actually pregnant. Fingers crossed we'll find out soon!
Check out the entire Gen Why series and other videos on Facebook and the Bustle app across Apple TV, Roku, and Amazon Fire TV.