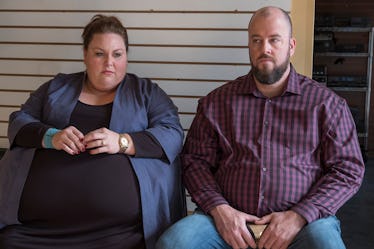 New Photos From The Super Bowl Episode Of 'This Is Us' Are Here & We're Already Crying
Ron Batzdorff/NBC
The world is waiting with bated breath for a highly-anticipated TV event on Sunday, Feb. 4, 2018. Yes — Super Bowl LII is happening, but following the sporting event, it's time for the show we've all been counting down to: This Is Us. The tear-jerking drama is getting the coveted post-big game time slot and we're expecting our night to end in tears, even if our team wins the Super Bowl. And the recently-released This Is Us Season 2 Episode 14 photos are already preparing us for the onslaught of sadness that will inevitably come.
Season 2 Episode 13, titled "That'll Be The Day," had us pretty much inconsolable while lying in the fetal position all through its somber final moments. We saw Jack as he wrapped up what we all know is his last Super Bowl Sunday, failing to fully switch off an old slow cooker that would ultimately burn down the beloved house he and his family shared so many memories in. We don't know if we can ever listen to "To Build a Home" by Cinematic Orchestra again without sobbing. The promo for the next episode shows the Pearson patriarch coming face to face with the flames, and promises "all your questions will be answered." Nooooo! Even though America has been asking about Jack's death since the show began, we are so not ready to deal with this.
According to the pictures for Episode 14, it appears that Randall will be addressing a group of children, likely classmates of one of his daughters. Nobody can command a room like Randall, even if it's full of youngsters. Listen up, kids! This man is full of wisdom.
As we all know, Kevin has been though a lot this season — dealing with addiction that resulted in a DUI and a stint in rehab. The events have forced him to face some demons from his past, including his relationship with his father, mother, and siblings. And now, we know that he and Jack weren't exactly in the best place the night of the fire. In images from the upcoming episode, it looks like Kevin is struggling a bit, but maybe he's trying to find a moment of zen amidst it all?
Kate is clearly still emotionally affected by her father's death — we saw firsthand how hard it was for her to even come to terms with adopting a dog (something many viewers are saying is linked to the night of that fateful fire, as it's possible Jack went in to save her beloved pet.) In the promo for the post-Super Bowl episode, we're reminded of Kate's heartbreaking remark regarding her father's passing. "It's my fault," she says.
If that's not enough to completely gut you, Milo Ventimiglia is here to make sure we know just how "painful" the post Super Bowl installment of This Is Us will be. He revealed to Entertainment Weekly,
It's just an absolute soul-crushing event. Once you figure out the moment where it's going to happen, you may get some hope — and then it's all going to go away... I think the best thing I can say — or the worst thing I can say — is: It's going to be f—ing painful.
Leave it to Mandy Moore to show audiences the silver lining. The woman behind Rebecca Pearson told ET,
I can't wait for fans to see our Super Bowl episode. People will get a lot of answers and will be able to move forward. I think for everybody's sake it'll be a good thing.
Even though Sunday's revealing episode will probably put us into an emotional tailspin, we have to admit we're looking forward to getting some answers and putting some theories to rest.
This Is Us will air following Super Bowl LII on Sunday, Feb. 4 on NBC.