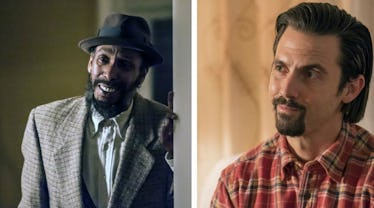 Milo Ventimiglia Gave New Details About Jack's Death On 'This Is Us,' So Prepare To Sob
NBC
Season 1 of This Is Us was defined by flashbacks and feelings, but the real tissue box buster episode didn't come until nearly the end of the first run of episodes. Despite the focus on the past, the hardest scene to watch was the death of William (Ron Cephas Jones). Season 2 has spent more time in the present than last year, but the tissue buster moment will be one from the past, as we finally witness Jack's death. In a new interview, Milo Ventimiglia compared Jack's death to William's on This Is Us, telling fans that this would be just as hard a heartbreak.
Last night's episode was one long build to the main event, with a flashback-heavy hour that relived Jack's last day alive, ironically one of his favorite days: Super Bowl Sunday. But though the episode ended with the kitchen going down while the flames went higher, the scene cut off with the family still asleep upstairs, unaware that their entire lives and memories were being taken from them.
Speaking to Entertainment Weekly after the episode aired, Ventimiglia warned fans next week was going to be rough.
It's just an absolute soul-crushing event. Once you figure out the moment where it's going to happen, you may get some hope — and then it's all going to go away... I think the best thing I can say — or the worst thing I can say — is: It's going to be f—ing painful.
Jack's death has been a mystery since the very beginning of the series. It's the black hole in the lives of Kate, Kevin and Randall, or as Beth called it the other week "the no-fly-zone." That slow puzzle box reveal, of the layers of the past being introduced only to slowly be peeled back to get to the heart of what happened, is one of the major draws of the show. It's been such a draw that the show has struggled sometimes with theories for the answer to the "mystery of Jack's death" taking over the fandom.
This second season, the show has worked harder to balance things out more. Yet since the premiere, it has promised that answers were coming before the end of the season. While some of the show's best work so far this year has been focused more in the present (hello therapy episode!), with this week's trailer announcing "all questions will be answered," the focused had turned back to fan theorizing.
Ventimiglia wants to put a stop to that. How Jack died, in the end, is not what's important, and if fans are focusing on that, they're missing the point.
I absolutely understand how the audience wanted to see Jack's death because it was teed up for that. I don't think they were led to believe that it was happening; they just had a desire because it felt like the biggest moment for this family was their father passing... I think people want to get to it so they can have acceptance, they can have closure, they can have an understanding moving forward.
But anyone coming in thinking they're going to have "their" answer validated should perhaps think about the episode from a different perspective.
Having the understanding that these kids and this woman are going to lose a massive part of their family should be enough that whatever happens — or how it happens — should be satisfying enough. Or heartbreaking enough. How do you applaud a man's death, especially a good man? People should just understand that it's coming and wait and process it when it does. Not everybody has the luxury to know that death is coming — but we all know that Jack's death is coming.
This Is Us' next episode will air directly after the Super Bowl on Feb. 4, 2018, at 10:15 p.m. ET, or thereabouts.