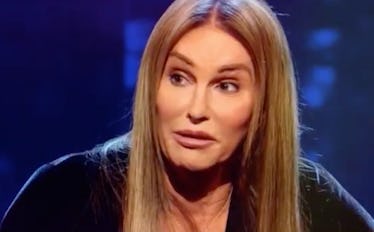 Caitlyn Jenner Slipped Up In An Interview & Dropped A Huge Clue That Kylie Gave Birth
It's a new year, but we're still asking the same question: Is King Kylie going to be a mama? Though the Kardashian-Jenner family is remaining relatively tight-lipped about the alleged pregnancy, a new interview just might confirm what we've all been wondering. This clue that Kylie Jenner gave birth from Caitlyn Jenner could change everything.
Things get a tiny bit awkward (to say the least) when Caitlyn appears on Piers Morgan's Life Stories. The two cover a range of topics, including Jenner's book, her trust issues with the Kardashians, and her transition. However, it's not until the topic of grandchildren comes into play that viewers' jaws drop.
Typically, most grandparents are eager to share info about their little ones, but Caitlyn seems to feel a little overwhelmed when she is questioned about her family. Morgan asks how many grandchildren she has, and the response totally triggers fans' curiosity about Kylie's supposed pregnancy. Those who keep up with the Kardashians have been waiting for a grand slip-up like this for months.
"I've got 12... 13 grandchildren," Caitlyn tells Morgan. She stumbles on the question, but what's even more interesting is the fact that she actually has 11 grandchildren, according to Mirror: three from daughter Cassandra, one from son Burt, one from son Brandon, three from step-daughter Kourtney Kardashian, two from step-daughter Kim, and one from their brother Rob. Could this fumble mean that Caitlyn knows more than we do? Elite Daily has reached out to Kylie's reps for comment but did not hear back at the time of publication.
What are your thoughts about Caitlyn's slip? Pretty fishy, huh?
Fans are convinced that Caitlyn isn't allowed to reveal Kylie's baby's existence, while some are wondering if the lucky number 13 comes from Caitlyn's two pregnant step-daughters, Kim and Khloé Kardashian (which will add to the 11 grandchildren she already has). Either way, it's clear this question struck a nerve. The interview officially entered sensitive territory at that point.
In the fall of 2017, sources did reveal that Caitlyn was worried about Kylie's alleged pregnancy. This is Caitlyn's youngest child, after all, and any parent would have the same concerns about such a major milestone. The source did make quite a statement to Us Weekly and revealed,
Caitlyn is excited for Kylie but is also worried and thinks she is too young to move forward with such a big life decision like this. Caitlyn is supportive of her daughter, of course, but she doesn't necessarily think this is the right time for Kylie. She has a hugely successful business and Caitlyn doesn't want to see that taken away from her.
Caitlyn isn't the only member of the reality TV family who has been bombarded with questions about Kylie. While on Ellen, Khloé Kardashian discussed her own pregnancy... and dodged questions about her little sister's. The interaction had fans squirming.
DeGeneres asked, "Is Kylie craving things yet?" Kardashian lets out a laugh and responded, "What do you mean?" The talk show host makes no bones about it and says, "She's pregnant." Clearly flustered (but still giggling), Khloé replied, "Oh, I don't know what you're talking about." She suggested that DeGeneres should have Kylie on the show to discuss the issue, but of course she's one-uped as the comedian said that Koko's eyes revealed everything there is to know.
Kylizzle: How long are you going to let your family members cover up for you? Eventually, you're going to have to give your fans a response one way or another. Are you planning to string these curious minds along for much longer? Whatever happens, fans will be sitting by, not-so-patiently waiting for an update from the beauty mogul herself.