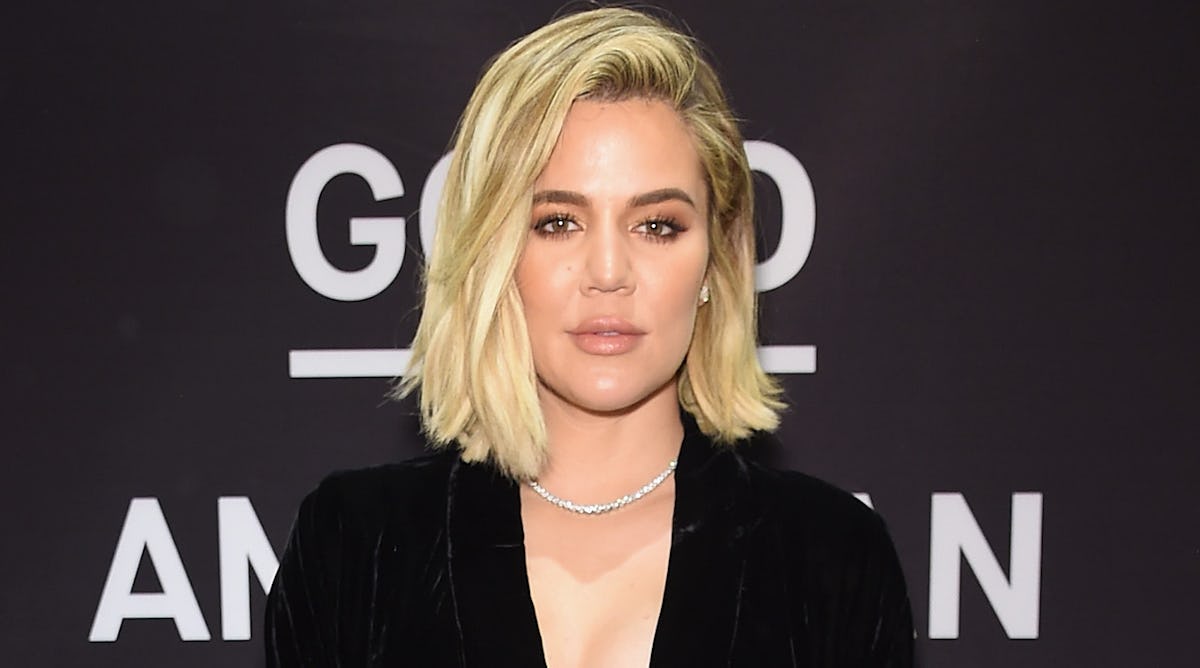 This Major Clue In New Photos Of Khloé Kardashian Could Prove She's Actually Pregnant
In our never-ending quest to figure out whether or not Khloé Kardashian is actually pregnant (Khloé, please, just tell us), we've found this clue in photos of Khloé Kardashian that could prove she and Tristan Thompson are expecting their first child together. We already broke down one theory that says Khloé Kardashian and Kylie Jenner's reported pregnancies could be revealed via the Kardashian family holiday card (more on this later). So let's dive into the theory that's more about how Kardashian has been hiding her reported pregnancy rather than how she's going to reveal it (if the rumors are true).
UPDATE: On Dec. 20, Khloe Kardashian confirmed that she is expecting a baby with Tristan Thompson in an Instagram post.
EARLIER: Fans believe Khloé Kardashian and Kylie Jenner are purposefully hiding their abdomens in photos in order to stop pregnancy conspiracy theories from starting. Of course, these efforts have just sparked their own set of theories, so that didn't work out as planned. This theory mainly applies to Kardashian and Jenner's Instagram and Snapchat posts, but now fans are diving into paparazzi photos of Kardashian to look for clues that she's actually pregnant. (Jenner has done a pretty good job of keeping herself out of the spotlight since September, so there aren't many paparazzi photos of her to look through.)
In a lot of the paparazzi photos of Kardashian released lately, Kardashian is seen using a purse to help cover her stomach. She's also always wearing some kind of baggy sweatshirt in the photos.
This is leading fans to believe that she's using the baggy clothes and carefully positioned purses to cover up her reported baby bump.
I mean... when you look at the paparazzi photos of Kardashian covering her stomach with purses, it's kind of hard to shoot down this theory pointblank.
Fans also think Kardashian, just like Kylie Jenner, is only posting photos of herself above the waist on Instagram and Snapchat in an attempt to conceal the reported baby bump. Kardashian has posted a lot of selfies lately, but none of them show anything below her waist.
She's also covering her stomach with her arm in most of these selfies to boot.
It's all definitely sus. We'll only know for sure if the theory about when she will reveal her reported pregnancy is correct once Christmas comes around.
Aren't fully caught up on that theory yet? No worries, we got you.
The theory basically says that Khloé Kardashian and Kylie Jenner's reported pregnancies will be revealed in the final days of the Kardashian family Christmas card photo reveal. It's basically a social media advent calendar of Kardashian family photos, and the pictures so far have mainly been starring Kris Jenner's grandchildren.
The first photo released on Dec. 1 was of Saint West combing through some cardboard boxes by a Christmas tree.
Day two was a photo of North West looking up at her mom and one of her aunties (it's not clear who, but it looks like it could be Kourtney Kardashian).
Day three was a photo of Reign Disick, Kourtney Kardashian and Scott Disick's youngest child.
Day four was another shot of North and Kim Kardashian West.
Day six hasn't been revealed yet, but based on the trend from the last five days, it will probably be a picture of one of the grandchildren. Since we've already gotten through both of Kim's kids and one of Kourtney's, my guess is the next photo will be of Penelope Disick, then Mason Disick, then Dream Kardashian, and then all of the grandchildren will be covered. Once we've seen all the kiddos, I'm predicting the Kardashians will show us photos of pregnant Khloé Kardashian and Kylie Jenner. It's also been confirmed that Kim and Kanye's third child, a daughter, will be arriving "before Christmas," so maybe we'll even see the first photo of their second daughter as part of this reveal!
Holiday cards are all about showing your friends and family what you've been up to the last year and what you're expecting in the coming new year, and babies definitely seem to be part of that future for the Kardashians. So we'll see what their holiday card has in store for us.