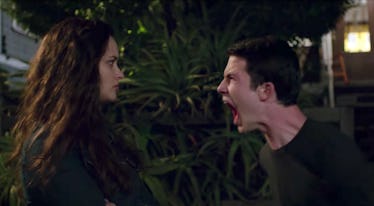 This '13 Reasons Why' Season 2 Trailer Claims "Hannah Wasn't The Only One" & I'm Screaming
Netflix
It is finally here! After months of speculation, theories, and combing for clues, 13 Reasons Why fans finally have an official trailer for the upcoming second season of the dark teen drama. A previous teaser showed us some stills of the cast as polaroids flew around them, but on Tuesday morning, Netflix posted the first full trailer for 13 Reasons Why Season 2, giving fans our first glimpse at footage from the new season. And the video reveals so much about what we can expect from the upcoming episodes.
The new trailer answers a ton of questions that 13 Reasons Why fans had about the second season, such as: How will Hannah still be a part of the show? Is Alex dead or alive? How will those guns we saw in the Season 1 finale come into play? The two-minute clip reveals that instead of appearing in flashbacks like many fans thought, Hannah Baker will actually be appearing to Clay as a ghost, or a part of his mind. We see her urge Clay to investigate Liberty High's latest mystery in his room, although obviously, she is not really there. Check out the full 13 Reasons Why Season 2 trailer for yourself below, and then we can discuss all the other revelations and burning questions:
So, did you catch a glimpse of Alex Standall in there? It was very short, but you can see a brown-haired Alex standing among the rest of the cast at what looks to be a police station towards the end of the trailer. This shot confirms that Alex's suicide attempt at the end of Season 1 must have been unsuccessful, although he is shown holding a cane, so he must still be in recovery.
Another big question from Season 1 involved all those guns that popped up in the season finale. The last episode showed Tyler stowing away an arsenal of firearms in his room, and Justin grabbing a gun as well. The new trailer shows Justin and Clay shooting at bottles together, resulting in Clay declaring that it is up to him to get justice for Hannah, implying that he would use the gun to that end (possibly to shoot Bryce?).
So, we see what happens with Justin's gun, but what about Tyler's mini-armory? The trailer does not really answer that; all we get is a few more shots of Tyler getting bullied. There is a quick scene towards the end where Tyler is walking down the school hall with a large duffle bag, though. He is accompanied by a new character, who appears to be Cyrus (played by Bryce Cass). When Cass was cast, his character of Cyrus was described as "an unexpected champion of the downtrodden." Perhaps Tyler is the "downtrodden" that Cyrus will be helping out... although just how Cyrus will be helping remains in question, as does what might be in that huge duffel bag.
Aside from these important revelations, the new trailer also introduced the central mystery of 13 Reasons Why Season 2: Who is leaving behind polaroids with ominous messages written on them? It seems to kick off with Clay finding a photo of Hannah and Bryce that reads "Hannah wasn't the only one," and continues when Jessica finds a series of photos of herself with the words "Who would believe a drunk sl*t" scrawled on them. The photos will likely kick off Clay's investigation into what showrunner Bryan Yorkey revealed to be the theme of Season 2: serial sexual assault within a high school athletics team.
The trailer also gives us our first looks at Hannah's mom getting justice for her daughter in court, as Bryce is in the witness stand. Season 2 of 13 Reasons Why will premiere on Netflix on Friday, May 18.