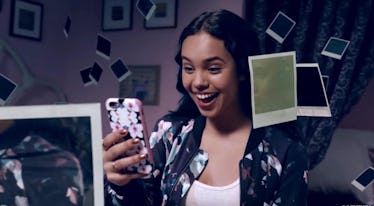 '13 Reasons Why' Just Posted An Instagram Story Filled With Major Season 2 Spoilers
Netflix
In just a little over a week, we will all get another look inside Liberty High School to check in on the students after the fallout from Hannah Baker's suicide, and watch as they become wrapped up in a new, dark mystery. Like any high school kid in 2018, the students in 13 Reasons Why love to share updates about their lives on social media... and now the Netflix series is starting to reveal these Instagram accounts to fans. The 13 Reasons Why Instagram posted some Season 2 spoilers this week, and gave fans of the show a whole new way to connect with their favorite characters.
On Monday morning, fans following 13 Reasons Why's official Instagram account noticed a whole lot of interesting posts popping up in the stories. The show's account posted a string of videos and photos in its Instagram stories featuring the main members of its cast in character, and the new posts definitely reveal some details about the upcoming second season. Each post also includes a tag to an active Instagram account for each character — but, all the accounts are currently private (except for one). Let's go through each post from the 13 Reasons Why Instagram story and see what we can deduce about Season 2.
First up is a video of Clay, in which he giggles and jokes around with whoever is filming him. It looks like Clay may have a new love interest in Season 2, but who could it be? He ended Season 1 driving off with the tatted barista Skye, so maybe their relationship developed. Or it could be a new character we haven't met yet.
Next is a photo of some boxing gear, posted by Tony. He writes that he is working out his aggression with more aggression. Why is Tony so angry? Well, new photos show that someone destroys Tony's car in Season 2, and the teaser showed him looking pretty beat up as well. I guess boxing is how Tony will try to deal with some pretty big physical trauma.
One of the more interesting posts comes from Courtney, whose video shows her blowing kisses at the camera while saying "Hey baby, I miss you," only to quickly follow it up by saying she didn't mean to post that, and it was for a special guy. In Season 1, Courtney struggled to deal with her attraction to women. This new video may suggest that Courtney may begin dating a man in Season 2 in order to further cover up her same-sex attraction.
As for everyone's least favorite character, Bryce's post just shows him hitting a baseball, with the caption "State champs." We know Season 2 will be all about sexual assault within the high school athletics community, and Bryce further elevating himself by leading the baseball team to statewide victory may cause his coaches and/or teachers to further sweep his crimes under the rug.
The character that most fans think will be central to Season 2 is not giving much away in his post. Tyler's photo just shows him asking the followers to help him pick out a tie for court. We already know that the new season will revolve around legal battles — Hannah's parents suing the school and Jessica getting justice for what Bryce did to her — so the court hint is not really revealing.
Zach's picture is not too spoiler-y either. The photo just shows Zach working out on the baseball field.
Getting justice is going to be a major part of Season 2, and it looks like that all starts with Sherri. We saw her feeling guilty for knocking over the stop sign that led to Jeff's death in Season 1, and in her Instagram post, she alludes that she may have spent the summer in prison.
We still don't really know how Ryan will factor into Season 2. True to his brand, his Instagram post is just him complaining about writer's block.
The final post in the story is a video from Marcus, who mentions the importance of the judicial system and how he is looking forward to helping the jury come to the right decision. This may be in reference to Hannah's parents suing the school, and suggests Marcus may wind up playing a critical part in that lawsuit somehow.
Although the 13 Reason Why Instagram story ends there, the account did point fans to one other student's Instagram account. The account posted a first-look photo of Alex back at school in Season 2, with brown hair and a cane.
And that photo linked to Alex's Instagram account, which is the only student Insta account that is not set to private. There, Alex posted a video in his stories revealing that he is alive and well, and he would be seeing everyone back at school.
Be sure to keep checking out these Instagram accounts for new tidbits from the 13 Reasons Why cast.