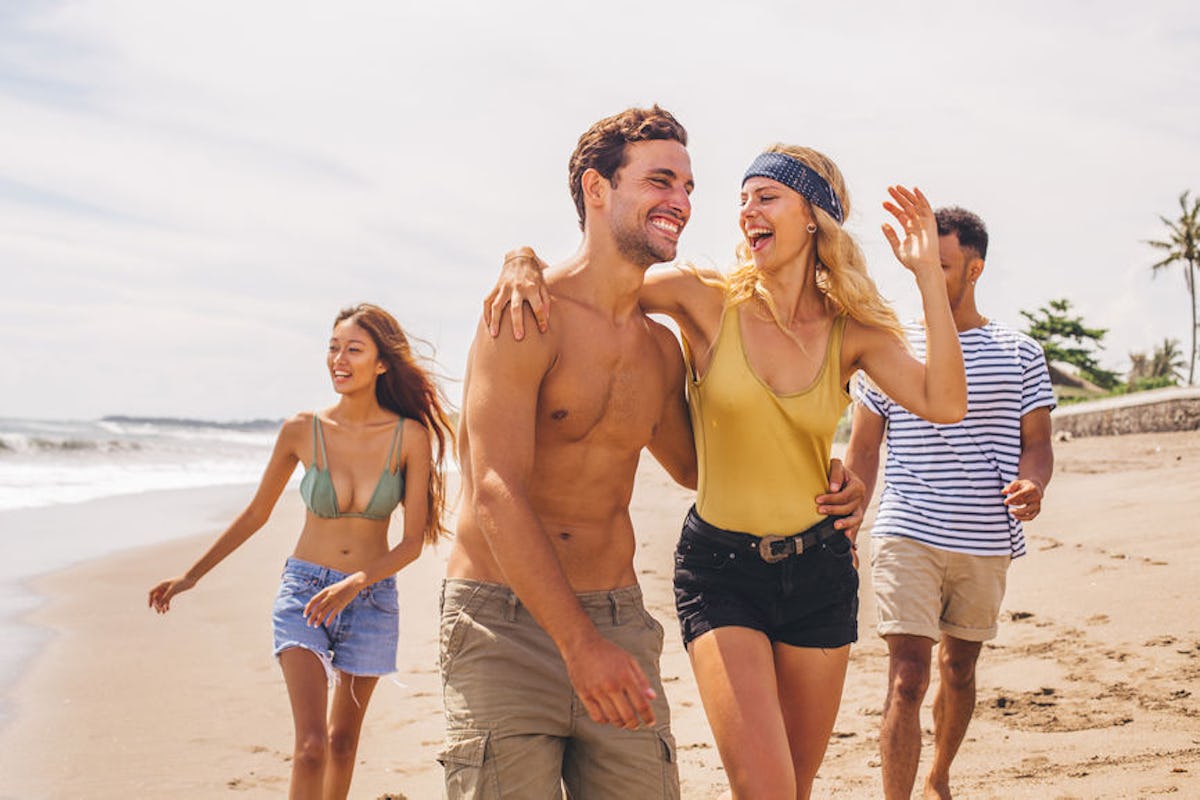 These 5 Zodiac Signs Are Going To Have The Best Summer Ever, So Embrace The Good Vibes
Summer is always a transformative experience. It's a season full of sultry romance, wild nights brimming with inhibition, relaxing days sleeping under the sun, and countless other forms of ecstasy. I don't know about you, but as soon as the winter holidays are over, I spend the rest of the months looking forward to all the possibilities that summer has to offer. You never know what might happen, and when it's all over, you look back on summer knowing you've metamorphosed into a new person. If you're hoping the season will end up being all it's cracked up to be, these zodiac signs are going to have the best summer ever: Taurus, Cancer, Leo, Libra, and Pisces. If you were lucky enough to be born under any of these signs, prepare for this summer to infuse your heart with love, pleasure, and beauty.
The wildness begins on June 21 and lasts all the way until Sep. 22, so I hope you're all ready for it. Between then, the sun blazes through Cancer, Leo, and Virgo season, taking us all on one thrilling roller coaster ride. While summer is always filled with peaks and valleys, the following zodiac signs probably have no idea just how much awesomeness is headed their way.
Taurus: You Will Be Filled With Laughter & Joy
You will experience a surge in attractiveness when Venus, planet of romance and love, enters Leo on June 15. This will light up your fifth house of pleasure and fun with beauty, making everyone want to be your friend. You will radiate joy, happiness, and frivolity, embodying exactly what summer is all about. This is a perfect time to engage in playful activities, to throw a party, to take all your friends under your wing.
Take care this summer with Uranus, planet of dramatic revolution, transforming your first house of the self. You're undergoing some major changes right now. However, there's no reason why you can't enjoy it.
Cancer: Your Vibrant Energy Will Be So Alluring
The season begins with the sun and Venus, ruler of affection and love, lighting up the world in Cancer. The zodiac sign who will receive this energy the most is you. Prepare to be charged with energy, surrounded by loving people, and more in-touch with yourself than you've been in a long time. This would be a great time to participate in activities with your close friends, to go on adventures with new people, and to expand your own self-love.
Take caution when Mars retrograde begins on June 26 and ends on Aug. 27. It will occur in your eighth house of death and rebirth. This could take a toll on your sex life or cause you to mismanage your aggression. If you experience any loss, remember that something will be gained in return.
Leo: You Will Feel Like The Royalty You Are
Starting June 13, Venus, planet of romance and friendship, will light up the world in your name. You will relish the way crowds flock to you and the exchange of affection will soothe your entire life. When Leo season begins on July 22, you will fully realize your fantasy of being crowned queen. The sun will pour power into your mind, body, and soul, making you feel as strong as ever. This will be the best time to place your needs first, to do exactly what makes you happiest.
Beware of Mercury retrograde in Leo, which begins on July 19 and ends on Aug. 19. Since this is the planet that rules over communication and technology, it's bound to cause you to stumble over words. Think twice before speaking and double-check everything.
Libra: Your Social Life Will Be On Fire
When Leo season begins on July 22, it will infuse your 11th house of community and friendship with energy from the sun. Expect your social life to be filled with excitement. You'll likely make a lot of new friends during this time and feel inspired to bring tons of people together for some adventures. This is a beautiful time to attend large events, throw gatherings, and step out of your comfort zone where you can mingle with strangers.
However, when Mars retrograde begins on June 26 and lasts until Aug. 27, it will occur in your fifth house of pleasure and fun. This could make you feel frustrated by the amount of enjoyment you're experiencing. It could also cause you to take the fun too far in an attempt to make up for it. Try to appreciate the present moment instead.
Pisces: You'll Want To Party Your Heart Out
For you, this summer begins with a thrilling bang. With the sun and Venus, planet of romance and affection, oozing gratifying energy into your fifth house of pleasure and excitement, you're ready to let loose and delve deep into the most exhilarating season of all. Your joyful aura will attract anyone who wants to take part in your wild and enchanting world. There's no reason you can't fully get into the lively spirit of summer as soon as it starts.
Although, with Mercury retrograde occurring in your sixth house of work and health from July 19 to Aug. 19, you may fall behind on your priorities or experience a depletion in your vitality. Make sure you prepare for this in advance.