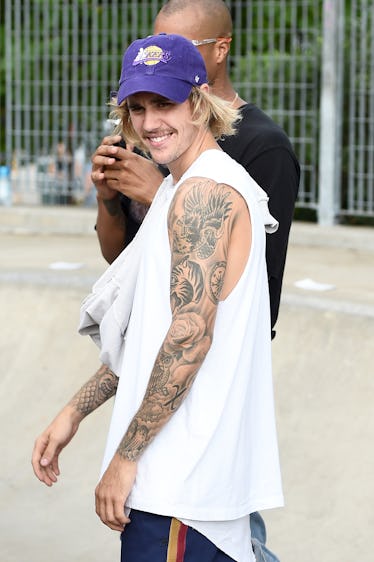 These Videos Of Justin Bieber Performing In Front Of Buckingham Palace Show His Pure Talent
Theo Wargo/Getty Images Entertainment/Getty Images
I like Justin Bieber. Really. His music is super catchy. I believe he was shoved into fame at such a young age, he's incapable of knowing how real society works, which forgives some of his previous stupid behavior. I also think he's genuinely doing his best to be a good person and do the right thing. Ya know, like playing guitar on the public streets of London for free, for example. These videos of Justin Bieber performing in front of Buckingham Palace proves the kid's got talent — because he really, really does — it's also the latest public appearance he's made in a series of public appearances, like making out with Baldwin all over New York City and crying on his bicycle.
I don't know what's going on with this guy, but he has my attention.
On Monday, Sept. 17, Baldwin hosted a fashion show with Adidas as part of London Fashion Week with Bieber in tow. The two took a spin on the famous London Eye, enjoyed some PDA in a park, and most recently popped by the palace to do a little street performing. In videos shared by fans who were lucky enough to catch the "show" in real time, Bieber is spotted perched on a landmark fountain with an open guitar case in front of him. His guitar has sharpie messages scribbled all over it, with the word "PURPOSE" most predominantly displayed up top. In photos shared by Cosmopolitan, Baldwin stood by filming his performance, too.
Bieber sang his hit "Cold Water" and a tune that sounds like it could have been "Fast Car." One fan really got into that second one.
I guess my questions are: Where is his security guard? Why was he carrying his guitar? How long did he play for? Why wasn't there a bigger crowd? Did the Queen like it?
While Baldwin and Bieber's mere presence is undoubtedly loud, their attire was very understated. Bieber rocked a tie-dyed hoodie and Baldwin stepped out in a matching gray crew sweatshirt and sweatpants. The shiniest thing about the pair on this day was Baldwin's engagement ring. Which, speaking of their engagement...
On Tuesday, Sept. 13, TMZ released photos of the duo stepping into a New York City courthouse where witnesses say they obtained a marriage license. In fact, sources told People magazine Baldwin and Bieber already legally tied the knot. "They went ahead and did it without listening to anyone," one source said. According to another insider, Bieber told a court official, "Thanks for keeping it on the DL." After these rumors surfaced, Baldwin took to Twitter to say, "I understand where the speculation is coming from, but I'm not married yet!" She has since deleted the tweet. Hm... Elite Daily reached out to both Baldwin and Bieber's team for comment on their marital status but did not hear back by the time of publication.
Whether they're married or not, they sure are happy. May we all one day know the sheer joy and emotional freedom to sit by Buckingham Palace and serenade our lovers. God bless Justin Bieber.