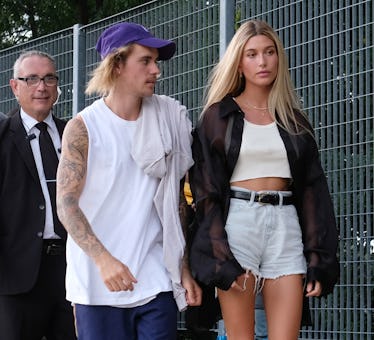 This Justin Bieber & Hailey Baldwin Update Really Shows They Intend To Last Forever
Nicholas Hunt/Getty Images Entertainment/Getty Images
You guys, you guys, YOU GUYS. I've barely recovered from the fact that Justin Bieber and Hailey Baldwin were at a courthouse in New York City on Thursday, Sept. 13, presumably doing some stuff and things to do with marriage, and now comes another piece of news that's got me seriously floored. Are you ready? Because it's BIG. And it's kind of crazy. Apparently, there's no prenuptial agreement signed between these two. And, like, what?! I mean, this can't be true right? CAN IT? Do Justin Bieber and Hailey Baldwin have a prenup? Because the Biebs is worth a cool $265 million according to Celebrity Net Worth, so not having some type of safety net for that large of a fortune just seems sorta risky, ya know?
According to Us Weekly, the pair has "no legal document in place to establish their separate property and financial rights in the event of a divorce." Um, Justin? I get that you like to live your life on the edge and all, and that you're SO IN LOVE with Hailey right now. But I didn't realize just how all-in you were! Elite Daily reached out to both Bieber's and Baldwin's teams regarding the reports about a prenup (or lack thereof), but did not hear back by the time of publication.
Of course, Baldwin took to Twitter to shut down rumors that she and Bieber are already married on Sept. 14, but Us Weekly swears up and down that they tied the knot. "They got legally married, but she believes marriage between God is the real thing," the source explained. Elite daily reached out to Baldwin and Bieber's teams for comment on Us Weekly's report, but did not hear back by the time of publication.
Well, if they didn't get married, like Baldwin said on Twitter, then the fact that they don't have a signed prenup yet may not really matter. But if they did, well, then, it's all kind of romantic.
The whole thing is just super confusing. Like, is JB officially off the market or not? According to TMZ, Baldwin and Bieber got married on July 13, after they were spotted walking into a courthouse in New York where marriage licenses are issued. A religious source also told to People that the pair reportedly got legally hitched at the courthouse, but will have a ceremony and celebration with family and friends later. "They're going to have a big blowout," the source said. "In front of God and everyone they love."
OK, so it sounds like these two are officially Mr. and Mrs., right? Not so fast. Because that's when Hailey herself sent out that tweet denying the union and like, OMG why can't anything ever be easy?
"I understand where the speculation is coming from," Hailey wrote. "But I'm not married yet!" And then she later deleted the tweet, because of course she did. And now I'm even more confused.
Meanwhile, Us Weekly was still reporting as late as Sunday, Sept. 16, that the whole marriage thing DID actually go down. They claim the couple entered the courthouse through a back door, after which they were taken into a private office toward the back of the building. "Hailey was glowing and Justin had his hand wrapped tightly around hers."
So sweet! But is it true? Never say never.