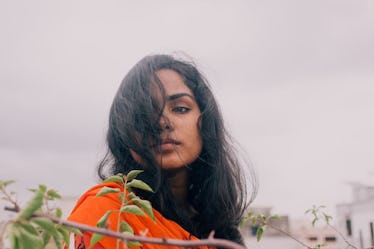 You Might Run Into These Migraine Triggers On Valentine's Day, So Here's How To Handle It
I'm a huge fan of telling people in my life that I love them, whether that means a partner, my friends, my pup, or even myself. But if I'm being totally honest, chocolate is the main attraction on Feb. 14 each year for me. If you're already starting to dream of chocolate lava cakes and beautiful boxes full of truffles, I'm right there with you. But if you have a history of migraines, then you might want to know about some of the unexpected migraine triggers that you could run into on Valentine's Day. Spoiler alert: You can probably still have chocolate treats without coming down with terrible pain, so don't get too worried.
Thinking about migraines is objectively less celebratory than dreaming about your secret crush, but taking just a little extra caution could be the difference between drifting off into a peaceful sleep on Feb. 14, and fighting through the pain after a romantic dinner. Have no fear, though, because Dr. Sara Crystal, a neurologist, headache specialist, and medical advisor for Cove, is here to share some common triggers that might be part of your Valentine's Day festivities, as well as tips for how to avoid them without feeling like you're missing out on all of the fun.
If you've been getting migraines for a while, then you probably already know what triggers might lead to an episode, so make sure to listen to how your body, specifically, reacts to certain foods, scents, etc. "Triggers are very personal to each person, which is why there's no one-size-fits-all treatment for migraines," Dr. Crystal tells Elite Daily in an email. Having said that, here are some common culprits you could encounter on Valentine's Day.