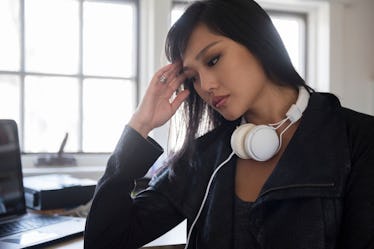 You Probably Had No Idea These 6 Little Things Can Trigger A Migraine
For migraine sufferers everywhere, there's good news on the horizon: The FDA just approved a new medication to combat migraines. Given how many common migraine triggers there are in the world, the notion of being able to take a medication to get rid of severe head pain is no doubt welcome to the people who endure it. After all, migraines can strike at what seem like totally random times, and if you know the struggle, then you might not always be as prepared for them as you'd like to be.
Even though the FDA has approved this new form of medication for the public, though, that doesn't mean it's available for just anyone: According to CNN, the medication, which will come in the form of an injection, will require a prescription, and it may cost as much as $575 a month, which isn't exactly cheap. With that said, it might be well worth the cost for those who suffer from severe migraines, which can often be totally debilitating, to the point of making someone bedridden for days.
While this new medication is undoubtedly good news, there is still plenty to learn about why migraines strike in the first place. Migraines are especially fascinating because they're triggered by so many different factors, many of which you might not even know about. If you're living with chronic migraines, or even if you just get really bad head pain from time to time, here are seven common triggers that you should definitely know about so you know what to avoid moving forward.