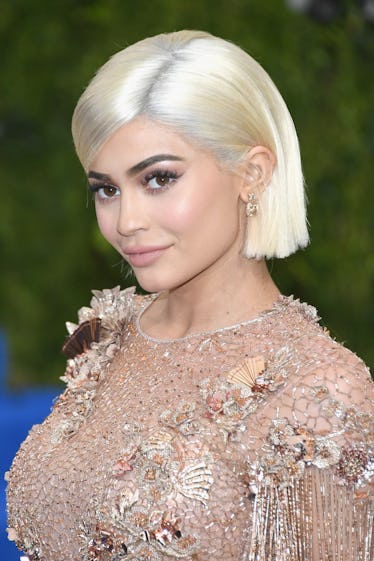 Fans Are Defending Kylie Jenner Against Haters On Twitter After Her Daughter's Birth
Dia Dipasupil/Getty Images Entertainment/Getty Images
Another day, another Kardashian-Jenner birth finally confirmed. Yep, you read that right — Kylie Jenner gave birth to her first child. Rumors first started swirling in Sep. 2017 that the 20-year-old makeup mogul was expecting a baby with her rapper boyfriend Travis Scott, but what we thought would be a quick shutdown of that story never came. Now that we know it's true, people on Twitter are defending Kylie Jenner's pregnancy against a few jerks out there.
On Sept. 22, TMZ reported Jenner was expecting her first child, a baby girl, with Scott. The TMZ report read,
Kylie began telling friends earlier this month at the Day N Night Fest in Anaheim, CA. Sources also say 25-year-old Travis Scott, Kylie's boyfriend, has also been telling his friends. We're even told -- although we cannot verify -- that he's told friends they're having a girl.
And now, Jenner has confirmed the reports. She announced the news on Sunday, Feb. 4, 2018 on Instagram, with the most touching text post and video clip. Also, get your tissues ready, because the full 11-minute video, which Jenner posted on YouTube, takes fans on a journey of the last nine months for Kylie.
In the video, fans caught an inside look into the life Jenner had been keeping under wraps ever since pregnancy rumors surfaced: interviews from Jenner's family and friends, photos of Kylie Jenner pregnant, the birth of Kim and Kanye's new daughter Chicago West, and even the tiniest glimpse of Jenner's own newborn at the very end of the video. Also, in her initial text post confirming the pregnancy, Jenner shed some light on why she had decided to keep things quiet:
And fortunately, though some people on Twitter took the announcement as a welcome invitation to shame Jenner over her pregnancy, many fans jumped to Kylie's defense.
Regardless of her age or status, it's nobody's decision besides Kylie Jenner's as to whether or not she should or should not be having children. One more time for the people in the back: The decision for Kylie Jenner to have a child does not lie with people on Twitter, people in Jenner's family, or anyone besides Jenner herself.
And Jenner's new baby will have no shortage of cousins to hang with. Back on Sept. 26, People reported that Jenner's sister Khloe Kardashian was also expecting a child with her NBA boyfriend Tristan Thompson. We had a few months of waiting on that confirmation, too. But finally, on Dec. 20, Kardashian confirmed the news with a photo on Instagram, writing,
My greatest dream realized! We are having a baby! I had been waiting and wondering but God had a plan all along. He knew what He was doing. I simply had to trust in Him and be patient. I still at times can't believe that our love created life! Tristan, thank you for loving me the way that you do! Thank you for treating me like a Queen! Thank you for making me feel beautiful at all stages! Tristan, most of all, Thank you for making me a MOMMY!!! You have made this experience even more magical than I could have envisioned! I will never forget how wonderful you've been to me during this time! Thank you for making me so happy my love! Thank you to everyone for the love and positive vibes! I know we've been keeping this quite but we wanted to enjoy this between our family and close friends as long as we could privately. To enjoy our first precious moments just us Thank you all for understanding. I am so thankful, excited, nervous, eager, overjoyed and scared all in one! But it's the best bundle of feelings I've ever felt in my life!
Congratulations to the entire Kardashian-Jenner family. 2018 is going to be one amazing year.