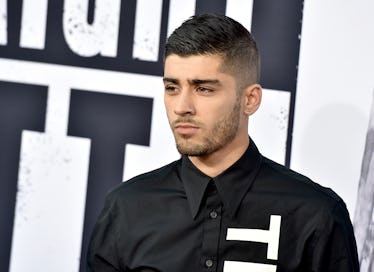 Zayn Malik Deleted All Of His Instagram Pics & Fans Are Freaking Out
Kevin Winter/Getty Images Entertainment/Getty Images
I don't want to completely ruin your Saturday afternoon, but I have some pretty devastating news. For some reason, Zayn Malik got rid of every single one of his Instagram pictures. If you're worried right now, you're not alone. These tweets about Zayn Malik deleting his Instagram photos show that everyone is panicking.
Maybe you expected this balmy spring Saturday to consist of bottomless mimosas with your friends. Or, there's a chance that you were planning on taking a walk in the park with your family. But nope, Saturday is officially cancelled, because Malik deleted all of his IG photos. I know for a fact that my day is now going to mostly involve a lot of sweating and even more panicking. Yikes.
I have so many questions, and I don't even know where to start. What's going to happen to all of Malik's gloriously handsome selfies? Or what about all of his old couple photos with Gigi Hadid? Where am I going to be able to find all of his old One Direction pics, and what am I going to do when I can't sleep at night? But most importantly, why the heck would Malik do this to his beloved fans? Sadly, there aren't too many answers out there at this moment in time. It does help to know, however, that I'm not the only one freaking out about this. As expected, Twitter is currently in mass hysteria, which you can see from the tweets below. Fans are horrified.
There are some positive people in the Twittersphere, on the other hand, that aren't totally anxious RN. And honestly, more power to them. Some of these half-glass-full fans are thinking that some big news is about to drop. Maybe he's rebranding, or maybe he'll be releasing some new music in the foreseeable future. TBH, I really hope they're right. Here's to wishing for the absolute best. (I really just want these theories to be true.)
The idea that Malik may have just deleted his photos because he's planning on releasing new music — or changing his image — actually isn't completely out of the question. In fact, it's been done before. If you recall, Taylor Swift did the same thing before she ended up releasing her badass 2017 album, Reputation. After a feud with Kanye West and a few devastating breakups, the "22" singer basically went silent on social media, which led to a similar widespread panic. But after taking a small break from constantly posting on IG, the singer broke out with a new album and a totally new vibe. On a similar note, many have noticed that Malik deleted his Instagram photos shortly after his split with model ex-girlfriend, Gigi Hadid. Is this post-breakup hiatus just a coincidence? I think — er, hope — not.
I apologize for being the bearer of bad news, because I know Malik's blank Instagram page might have somewhat ruined your day. Even though I don't know how or why this happened, my fingers are crossed that it leads to a new brand image, or even better, a new album. Whether Malik decided to do it because he was in a creative rut, or if it's due to his recent breakup, he might have just needed a little time to think, and that's OK. If that's the case, I'm totally here for it. Swift did the same thing, and her latest album was total fire. In the meantime, though, I'm holding memories of his IG close to my heart.