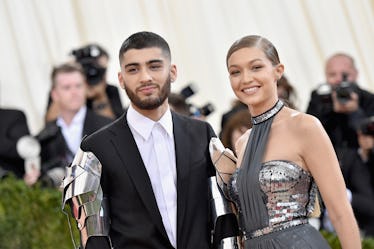 This Tiny Detail On Zayn Malik's Instagram Could Be Proof He & Gigi Hadid Broke Up – UPDATE
Mike Coppola/Getty Images Entertainment/Getty Images
The Gigi and Zayn split rumors continue to swirl, and now there's another tidbit of intel that leads to more questions about their relationship status. Zayn Malik unfollowed Gigi Hadid on Instagram, which only adds fuel to the breakup speculation fire following The Sun's recent report that the singer and the supermodel are no longer dating.
UPDATE: Zayn Malik has confirmed he and Gigi Hadid have split up. The musician took to Twitter on Tuesday, March 13, writing, "Gigi and I had an incredibly meaningful, loving and fun relationship and I have a huge amount of respect and adoration for Gigi as a woman and a friend. She's such an incredible soul. I'm grateful to all of our fans for respecting this difficult decision and our privacy at this time, we wish this news could have come from us first. We love you all. xZ"
EARLIER: Of course, an Instagram unfollow is not confirmation that Malik and Hadid's two-year romance is officially over. It's just a clue from social media land that could potentially signal where the superstar couple is at. The Sun reported today that a source told them Zayn and Gigi called it quits in early March. "Sadly Zayn and Gigi have separated," the source reportedly said. "They are no longer a couple but they do remain close and are supportive of each other ... The reality is that they've grown apart, having been together for a long time."
According to the source, the breakup was "mutual" and despite their previous time apart, this is a "formal split." "This is definitely the end for now, but this isn't a bitter split and they both have respect for each other," they continued to reveal.
Elite Daily has reached out to both Gigi Hadid and Zayn Malik's team for comment and confirmation on their breakup but has not heard back by the time of publication.
Gigi and Zayn have been linked since 2015 after an encounter at — where else? — the Victoria's Secret Fashion Show after party. "We played it cool for like ten minutes and then I was like, 'You're really cute,'" Gigi told Ellen DeGeneres last year of their sweet beginnings. "We connected like really quickly. We have kind of the same sense of humor and started sharing videos."
From that point on the A-list duo seemed inseparable on social media and the red carpet, making a stunning debut at the Met Gala in 2016.
It was reported that Hadid and Malik briefly broke up in 2016, but that seemed to be a short-lived bump in the road.
Gigi notably appeared in Zayn's sexy video for his hit single "Pillowtalk," which was released earlier that same here. They couldn't resist getting all cute about it on social, tweeting at each other adorably, making #Zigi fans across the world swoon.
And the public lovefest didn't stop there. Zayn and Gigi continued to show off their feelings for one another through social media, posting sweet words for one another, photos together, and marking milestones for their fans to see.
"We try not to think about it too much. There are a lot of people who are too busy in other people's lives. I just concentrate on my relationship and try to do right by my girlfriend and she does by me, and we hope for the best, as we all do!" Zayn told Us Weekly in the fall of 2017 about dealing with dating in the spotlight.
Even Gigi's mom, Yolanda, has gotten in on the posting action. She shared a sweet snap of her model daughter with the pop star around that same time last year using the hashtag #family in the caption.
"They're beautiful together and, you know, that's up to them. It's their journey. I'm here to support in whatever their journey is. And you know, they're still young," Yolanda told Us Weekly only a few short months ago when asked about the possibility of the famous duo getting engaged.
We sincerely wish Zayn and Gigi the best if the reports regarding their split are confirmed. For now, it's "Pillowtalk" on repeat all week long... *tear*