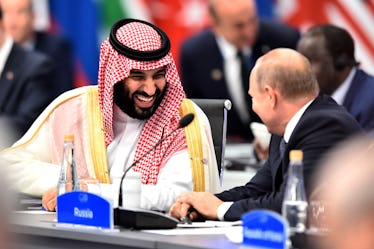 Twitter Is Cringing At Putin & The Saudi Crown Prince's High-Five At The G20 Summit
Amilcar Orfali/Getty Images News/Getty Images
Out of all things going on in the world right now, a high-five is the talk of the town. That's because it went down at the G20 summit on Friday, Nov. 30 between two prominent world leaders (yes, really). When Russian President Vladimir Putin and Saudi Crown Prince Mohammed bin Salman went to greet each other at the event, they enthusiastically slapped hands and broke out into laughter — and Twitter is just like... ??? These tweets about Vladimir Putin and Mohammed bin Salman's high-five at the G20 show just how confused everyone is at the bizarre encounter.
The moment happened on Friday afternoon in Buenos Aires, Argentina while the two were at the Group of 20 summit, a two-day event of the world's 20 largest economies. After Putin and bin Salman slapped hands, they happily sat down next to each other, smiling from ear-to-ear while conversing about an unknown topic. It was an exceptionally uncomfortable moment, as it comes hard on the heels of questions of how world leaders would deal with bin Salman — sometimes known by his initials of MBS — in the aftermath of allegations that he ordered the murder of a Saudi journalist in Turkey. Saudi officials have denied bin Salman's involvement and taken the stance that the journalist, Jamal Khashoggi, was murdered by "rogue killers."
Needless to say, it's all too strange for some people, and now they're taking to Twitter to question what's up with the weird and disturbing moment.
A lot of people referenced President Donald Trump's friendly relationships with both Putin and bin Salman. In July, Trump said at his Helsinki meeting with Putin that he believed the Russian leader's denial that Russia had meddled in the 2016 presidential election, despite the consensus of the U.S. intelligence community that yes, Russia did. More recently, Trump stood by bin Salman and Saudi Arabia, saying in a meandering statement that the country had been a "great ally" to the United States.
"That feeling when you own the President of the United States and can do whatever you want," mused Sen. Bob Menendez (D-New Jersey), referencing speculation regarding Putin's relationship with President Donald Trump.
The crown prince and Saudi Arabia have faced mounting backlash for the death of Khashoggi, who was living in the United States at the time of his death. According to The New York Times, Khashoggi was killed inside the Saudi consulate in Istanbul on Oct. 2. He had openly criticized Saudi leadership as an opinion writer for The Washington Post, leading to speculation that he'd been targeted. Although the crown prince has denied involvement, U.S. intelligence officials reportedly believe he ordered the attack. As a result, world leaders have condemned the crown prince, but Putin has not. "We do not know what happened in reality. So why should we undertake any steps to deteriorate our relations with Saudi Arabia?" Putin said of Khashoggi's death in October, according to The Financial Times.
On the other hand, Russia has long been under fire in the United States for meddling in the 2016 presidential campaign, something that has become a fresh topic as of late. On Nov. 29, the president's former lawyer Michael Cohen pleaded guilty to lying to Congress regarding real estate plans in Russia during the 2016 election, which was a bombshell update in the investigation into possible collusion between Russia and the Trump campaign. Elite Daily reached out to representatives of Cohen for comment about the plea deal at the time, but did not hear back.
After the news broke, Trump, who was supposed to sit down for a meeting with Putin during the summit, canceled, blaming the situation between Russia and Ukraine. He wrote on Twitter,
Based on the fact that the ships and sailors have not been returned to Ukraine from Russia, I have decided it would be best for all parties concerned to cancel my previously scheduled meeting.... in Argentina with President Vladimir Putin. I look forward to a meaningful Summit again as soon as this situation is resolved!
Well, at least it means he'll avoid the awkward high-five.