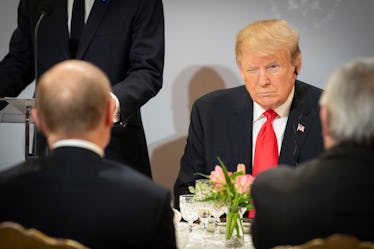 Donald Trump Canceled His Meeting With Vladimir Putin After Cohen's Guilty Plea
Handout/Getty Images News/Getty Images
Well, today sure has been a lot to say the least. Not only did Michael Cohen plead guilty to lying to Congress, but Donald Trump canceled his meeting with Vladimir Putin to boot. His reason? Well, it's not really fooling anyone. Heat up that kettle, because it's time to spill the tea.
Thursday, Nov. 29 has certainly been a wild ride for many of us, but especially for President Donald Trump. That day, his former attorney, Michael Cohen, pleaded guilty to "making false statements to Congress" regarding real-estate plans during the 2016 presidential election for a Trump Tower in Moscow, Russia, per The New York Times. Elite Daily reached out to representatives of Cohen for comment about the plea deal at the time, but did not hear back. The special counsel office confirmed Cohen's plea deal, but offered no additional comment.
Obviously that's huge news to hear, but closely following Cohen's plea, the Trump administration announced that President Trump has decided to cancel a meeting with Russian President Vladimir Putin at the G20 Summit on Friday, Nov. 30 during the G20 summit in Buenos Aires, Argentina. According to Trump, the reason for canceling the meeting is due to struggles between Russia and Ukraine, where Russia has not returned Ukrainian ships and soldiers back to Ukraine's territory. Trump broke the news on Thursday, Nov. 29 via Twitter. He wrote,
Based on the fact that the ships and sailors have not been returned to Ukraine from Russia, I have decided it would be best for all parties concerned to cancel my previously scheduled meeting.... in Argentina with President Vladimir Putin. I look forward to a meaningful Summit again as soon as this situation is resolved!
Sure, Trump may claim the reason for canceling the face to face with Putin may be because of political tensions. However, considering the drama with Cohen... it sure is coming at a very interesting time. The White House did not immediately respond to Elite Daily's request for comment on the canceled plans and whether it might have anything to do with Cohen's plea.
In his plea, Cohen said that he had misrepresented information to Congress about a project to build a Trump Tower in Moscow, including its timeframe and when it ended. He also admitted he had spoken to Russian government officials about the project, indicating that Trump may have had financial interests in Russia at the same time he was a presidential candidate. The White House did not immediately respond to a request for comment on Cohen's plea. Put that together with the fact that Special Counsel Robert Mueller is still investigating possible collusion between the Trump campaign and Russia, and it kind of makes sense that Trump might not want to be seen with the Russian president right now.
Ever since Putin and Trump's infamous meeting at the Helsinki summit in July, everyone has been anticipating the two world leader's next face to face. The G20 summit is intended to discuss issues of international finance and build relations between nations, but leading up to the summit, Trump hinted that he might cancel the meeting with Putin. Of course, nothing had been officially stated until now. Talk about timing.
No matter what the reason is behind Trump canceling the meeting, the president definitely has bigger matters on his plate to deal with at the moment. Following news that Cohen pleaded guilty to lying to the Senate Intelligence Committee, Trump told reporters that Cohen is a "weak man" and is only trying to seek a reduced sentence by bringing up the real-estate negotiations in Moscow, Russia. Elite Daily reached out to the White House for comment on Trump's response, but did not hear back.
As Special Counsel Mueller's investigation continues to heat up, there's no telling what else will be revealed over the next few weeks. Even though Trump may have canceled his meeting with Putin, I have a strong sense that we'll be hearing a lot more about the Russian president in the near future.